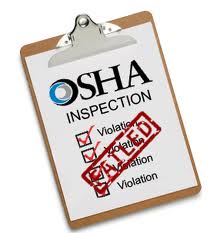 So you are having a nice day at the office, when and email from ISNetworld® comes through, informing you that an OSHA Citation has been added to your ISNetworld® records. OSHA citations placed on your record are reported to the owner-clients you do business with, can affect your ISNetworld®grade, so you are not happy! But, don't panic.
How Did ISNetworld® Find Out About Your OSHA Citation?
OSHA citations are public record, and you can search for OSHA enforcement records by entering the name of the establishment. If the citation information is correct, there is nothing you can do get this removed from your company's ISNetworld® safety record. However, sometimes mistakes are made and an OSHA citation may be associated with your company's account in error. This can occur if your company's name is simlar to another company in the database, or if a citation of a parent company is applied to the records of all of its subsidiaries.
What Should You Do When You See An OSHA Citation In Your ISNetworld® Account?
If you are notified that an OSHA citation has been associated with your company's ISNetworld® account, here's what you should do:
Review the citation to make sure it is correct and that the citation was actually issued against your company. The email you receive from ISNetworld® should have a direct link to it. You should also make sure the citation accurately reflects any resolution of the citation.
If the OSHA citation referenced does not apply to your company, contact ISNetworld® to request the removal of the incorrect citation. ISNetworld® provides a template you can use to prepare your request, which you can download it here.
If the citation is correct, there is nothing you can do to get it removed. But we recommend you view an OSHA citation as a call to action to improve your company's safety programs and management sytems to avoid future citations or incidents.