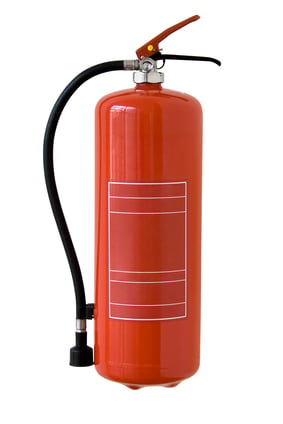 Construction sites can be a hotbed for fires – flammable materials, electrical wiring and combustible chemicals can be an extreme fire hazard. To protect your job site, investment and employees, you need to ensure your construction crews and job sites adhere to fire prevention protocol. Fire extinguishers are a key component in fire safety measures. Make sure your job sites are meeting all fire safety standards with the right fire extinguishers, training and maintenance plan.
How Many Fire Extinguishers Do You Need?
First and foremost, it is vital to ensure your construction sites are equipped with the number of fire extinguishers required by OSHA. According to OSHA fire protection standards, all construction sites must have firefighting equipment available, which usually includes fire extinguishers. Basic OSHA guidelines on the number of fire extinguishers needed include:
One 2A+ fire extinguisher per 3,000 square feet of protected building area

A fire extinguisher within 100 feet of any protected building area

At least one 2A+ fire extinguishers per floor

At least one 2A+ fire extinguisher adjacent to stairwells on multi-story buildings

At least one 10B+ fire extinguisher within 50 feet where 5 gallons of combustible liquids or 5 pounds of flammable gas are used
There are acceptable alternatives by OSHA standards to portable fire extinguishers, including ½ " diameter water lines and 55-gallon water drums with two buckets. However, these must be available to replace all required fire extinguishers, which can't compare with the convenience of portable, replaceable fire extinguishers.


Types of Fire Extinguishers

Fire extinguishers come in a wide variety of types and are designed for different kinds of fires. Class A fire extinguishers can put out a Class A fire, which is defined as a fire burning combustible materials like wood or paper. All construction sites will need a Class A fire extinguisher, but other types of fire elements may also be present. These include:
Class B – flammable gas or liquid

Class C – electrical, energized by an electrical source

Class D – metallic fire

Class K – cooking oils – vegetable or animal fats
Various options are needed in Class A and B fire extinguishers to meet OSHA fire safety standards. Water, foam and some multiple purpose dry chemical extinguishers are acceptable for class A fires. Foam, carbon dioxide and dry chemical options are used for class B fires. Dry chemical stored pressure and cartridge fire extinguishers are ABC capable, putting out wood, gas and electrical fires. It is important to choose the right type of OSHA-approved fire extinguisher

for your job site.




Maintaining Construction Site Fire Extinguishers

It is not enough to have the right fire extinguishers in the recommended quantities on your job site – they also need to be properly maintained. Fire extinguishers can be impacted by temperature – they must be protected from freezing. Maintenance includes monthly, recorded inspections of all extinguishers and yearly tests, according to the National Fire Protection Association (NFPA) No. 10A-1970 standards.

Staying on top of fire extinguisher safety standards outlined by OSHA and other authorities can help protect your business. At SafetyPro Resources, we can help ensure your business is meeting all safety standards and compliance issues. Contact us at our office in Baton Rouge, LA, to learn more about our safety program packages, safety audits and training options to keep your business in the Gulf Coast area meeting fire and safety regulations.