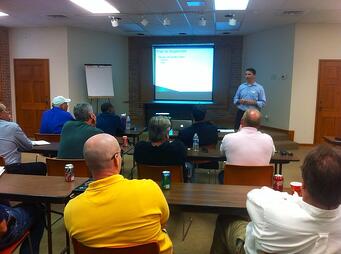 When it comes to creating a safe work environment and maintaining compliance with OSHA regulations, we offer a wide scope of safety training courses including CPR, Excavation, Fall Protection, and Forklift operation. Our training sessions are designed to engage your staff to maximize their absorption of the information covered. Classes are available on or off-site and can be scheduled around your employees' availability.
A well-trained workforce is a safe one. To learn more or to schedule, call (800) 941-0714.
Download our Safety Training Catalog for a full list of courses and pricing.
Online Safety Training
For organizations that have time restraints or geographic challenges to assemble work crews, SafetyPro offers OSHA training courses online.
General Safety Training
We offer a variety of safety courses that can be taught at our training facility in Baton Rouge or at your site.
Aerial / Scissor Lift Safety: A 2-hour course designed to ensure that operators are qualified with knowledge of aerial lift safety practices
Accident/Incident Investigation Techniques: A 1-hour course that will explain the purpose of accident/incident investigations in the workplace and help you understand your role in the accident/incident investigation process
Basic Adult CPR: A 4-hour course that is a combined CPR and AED program that is designed to meet the needs of the workplace, as well as the general public
Basic Adult CPR/First Aid: A 6-hour course that combines our CPR and AED program with first aid basics to give participants the confidence and skills necessary to respond in the event of an emergency
Benzene Awareness: A 1-hour course that covers chemical hazards, warning properties, characteristics, safe handling, atmospheric monitoring, and proper PPE
Bloodborne Pathogens Training: A 1-hour course that provides information and training on OHSA's Bloodborne Pathogen Standard 1910.1030
Confined Space Awareness Training: A 1-hour course to provide entrants, attendants, entry supervisors, and persons who test or monitor the atmosphere in permit and non-permit required confined spaces with an overview of 29 CFR 1910.146, OSHA's Permit-Required Confined Space Standard
Electrical Safety: A 1-hour course that provides an overview of 29 CFR 1910.332 through 35 as well as 29 CFR 1910.147 and covers terminology, general safety practices, basic electrical safety, assured equipment grounding conductor programs, electric shock, lockout/tagout procedures, and emergency response
First Aid Training: A 4-hour course that provides in-depth coverage of standard first aid practices for shock, burns, poisoning, bleeding, and wounds
Fall Protection Awareness: A 1-hour course that focuses on fall prevention through the identification of fall hazards in the workplace, the basics of elevated work, and fall protection systems
Fire Prevention: A 1-hour course that provides basic information about how fires start and how to prevent and extinguish various types of fires. The course covers fire prevention, fire warning labels, and various extinguishing systems.
Forklift Safety: A 4-hour course that focuses on forklift basics, power-operated forklifts, forklift body parts, hydraulic system parts, inspection checks, safe operation, and material handling
HAZCOM: A 1-hour course that takes a comprehensive view into OSHA's Hazard Communication Standard CFR 1910.1200 and covers chemical characteristics, labeling, SDSs, and protective measures
HAZWOPER 8-Hour Refresher: An 8-hour course that serves as a refresher for all trained persons in accordance with the HAZWOPER Standard. HAZWOPER 24 hour or 40-hour course is a required prerequisite. Training is designed to maintain learned competencies. Training meets the refresher training requirements of OSHA 29 CFR 1910.120
HAZWOPER 40 Hour Course: A 40-hour course that is designed for individuals who respond to releases or potential releases for the purpose of stopping the release. They will assume a more aggressive role than a first responder at the operations level in that they will approach the point of release in order to take necessary measures to stop and control the release. Attendees will also engage in hands-on clean-up operations.
Heat Safety Training: A 1-hour course designed to improve awareness when it comes to identifying the various causes and symptoms of heat stress in the work environment
How to Handle an OSHA Inspection: A 1-hour course that provides insight into the proper steps and procedures to have in place for an OSHA inspection
Lock Out/Tag Out: A 1-hour course that covers OSHA's Standard CFR 1910.147 regarding the control of hazardous energy and identifies safe work practices that are required for all employers in general industry.
OSHA Recordkeeping: A 1-hour training course that covers how to maintain OSHA logs, OSHA 300 Forms, Investigations and Recording, and Retention Procedures
OSHA 10 Hour: A 10-hour course focused on Walking-Working Surfaces, Workplace Fires and Emergencies, Electrical Safety, Personal Protective Equipment (PPE), Hazard Communication, Bloodborne Pathogens, Permit-Required Confined Spaces, Lockout/Tagout, and Forklift Safety
OSHA 30 Hour: A 30-hour course focused on Managing Safety and Health, Struck and Caught Hazards, Hearing Conservation, Respiratory Protection, Lead and Crystalline Silica, Asbestos, Hazard Communication, Electrical Safety, Hand and Power Tools, Fall Protection, Ladder Safety, Excavation Safety, Scaffold Safety, Materials Handling, Crane Safety, Heavy Equipment, Forklift Safety, Personal Protective Equipment (PPE), Materials Handling, Permit-Required Confined Space Entry, Fire Safety, Welding and Cutting, Concrete and Masonry, Steel Erection, and Ergonomics
PPE: A 1-hour course that provides comprehensive coverage of 29 CFR Subpart 1, OSHA's standards regarding Personal Protective Equipment
Respiratory Protection: A 1-hour course that presents general industry requirements of OSHA's Respiratory Protection 1910.134 and that covers types of respirators and selection, written respiratory programs, usage, medical evaluations and fit tests, and maintenance and care
Skid Steer Training: A 2-hour course that seeks to train operators in the necessary skills for safe operations of a rubber-tired or track skid steer, pre-use checks and field maintenance procedures, safe loading and securing, and the correct application of standards, manufacturers operating manual procedures/recommendations and the ability to identify any site-specific rules or other requirements that may apply
Supervisor Safety Training Workshop: An 8-hour workshop designed for individuals looking to strengthen their supervisory safety skills. These individuals will learn effective communication and leadership skills; supervisor/team leader's roles in the management process; hazard recognition, evaluation, and control; and an introduction to incident investigation and RCA.