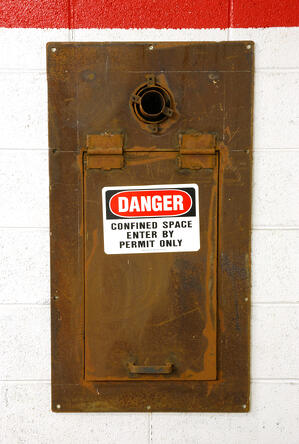 OSHA uses the term "permit-required confined space" (permit space) to describe a confined space that has one or more of the following characteristics:
contains or has the potential to contain a hazardous atmosphere;
contains a material that has the potential to engulf an entrant;
has walls that converge inward or floors that slope downward and taper into a smaller area which could trap or asphyxiate an entrant; or
contains any other recognized safety or health hazard, such as unguarded machinery, exposed live wires, or heat stress.
Examples of confined spaces include the following.

Boiler, Degreaser, Furnace
Pipeline, Pit, Pumping Station
Reaction or Process Vessel, Mills
Septic Tank, Sewage Digestor
Silo, Storage Tank, Barges
Sewer, Utility Vault, Manhole
Trenches, Shafts, Caissons

Confined space work is risky, and it is important that all employees involved in the work be properly trained. OSHA requires that all employees required to enter into confined or enclosed spaces shall be instructed as to the nature of the hazards involved, the necessary precautions to be taken, and in the use of protective and emergency equipment required. An effective confined space entry training program should include the following elements:
1. The training program should include all team members. All employees who work in and around permit-required confined spaces must be trained in order to acquire the understanding, knowledge, and skills necessary to safely perform their assigned duties.You must train the entry supervisor, the attendant, the authorized entrant, the atmospheric tester and all rescue personnel regarding their specific duties and risks. Each of these team members needs to understand their role in conducting a safe confined space entry operation and be proficient at all skills required to perform the job safely.
2. Training must be provided to each affected employee:
before their first assigned duty;
before there is a change in assigned duties;
whenever there is a change in permit space operations and the affected employee(s) has not previously been trained on the hazard(s); and
whenever there is reason to believe there are deviations from the permit space entry procedures or inadequacies in the employee's knowledge or use of the procedures.
A written record must be kept of completed permit-required confined space training and must include the employee's name, the trainer's signature or initials and dates of the training.
3. Training should be conducted by subject matter experts.
4. Test the proficiency of the entire confined space entry team through hands on application and documented testing to make sure they have the skills needed.
5. The training should be tailored to each team member's role to ensure that each team member knows their role, can recognize hazards and risks, and is aware of the effects and signs of an overexposure.
6. Your training program should meet the following minimum requirements:
A full training needs assessment should be done prior to training;
Training topic objectives need to be identified;
Adult learning application and principles need to be followed;
The training should comply with applicable standards and resources should be made available for additional information;
Criteria for completion, including testing standards, need to be identified up front;
You should have a system for evaluating the effectiveness of the training and continuously improve it;
Training should be conducted in accordance with a written training program plan and written training records need to be maintained; and
A training certificate should be issued to each participant upon successful completion of the training.