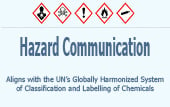 The deadline for US companies to begin compliance with OSHA's new Globally Harmonized System ("GHS") hazard communication rules is approaching and many of our clients have come to us with questions about how to manage compliance. The following is a list of 7 best practices to help you during the transition to the new hazard communication system.
Be Prepared. Stay informed on the latest GHS information by visiting OSHA's Hazard Communication website. This website has lots of information for employers and includes a timeline of implementation deadlines and requirements. The deadline for employee training is December 1, 2013, and the rules are expected to be fully implemented by 2015.
Review and Update your Vendor MSDS Management System. Make sure you have a system in place for tracking the documentation required under the new rules as they come into effect, and that you are aware of which documents comply with the new rules and which do not.
Inventory the Products You Have On Site. Be sure you know what you have so you can ensure that you have the proper MSDS documentation for everything. If you have a lot of products on site, a MSDS management services provider can assist you with this task.
Update Workplace Labels. Labels for products used on site will need to be updated with the new GHS pictograms and information.
Training Program. Training is an important part of the GHS implementation program. All employees will need to be trained on the new system, so that they understand the new hazard statements and pictograms. OSHA is requiring training by December 1, 2013.
Get the Help You Need. Make sure your vendors have a plan for assisting you with training and the other GHS requirements during the transition, including MSDS management, labeling, and creating new compliant documents. There are numerous resources available to help you on OSHA's website.
Contact Your Safety Consultant for Advice. Your safety consultant should be able to answer questions and assist you with compliance with these requirements. They can guide you to appropriate systems and programs that can help you make compliance easier and make sure your safety programs are updated to reflect the GHS requirements.