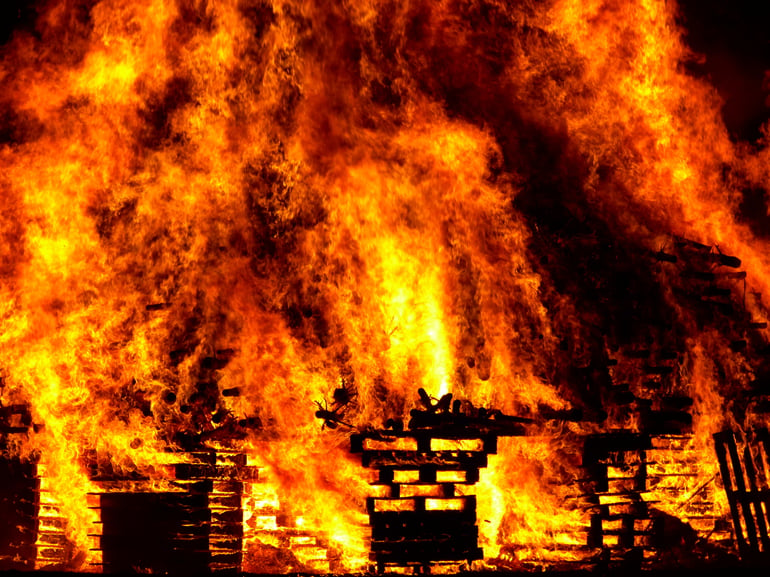 Construction fires can cause devastating losses for your business. Adhering to OSHA and state-regulated fire prevention safety measures should be the bare minimum to protect your employees, assets and business' reputation. Your business' fire prevention program should be a process that actively protects your business against construction fires that can be detrimental to your productivity and safety goals. Here are some tips for creating an effective fire prevention program for your construction sites and crews.
According to OSHA Safety and Health Regulations for Construction 1926.50 , employers are required to develop and maintain a comprehensive fire prevention program during all phases of construction. This includes various elements, from the firefighting equipment to training recommendations for all employees. Beyond meeting the OSHA regulations, a fire prevention program can protect your business and employees, a wise and vital investment. Consider these basic elements to include in your construction fire prevention program.
Combustible Material Safety
Storage, removal and maintenance of combustible materials on the construction site need careful management. A fire prevention program should include specific rules for safe storage of wood, paper, combustible liquids and other materials. Combustible items should never be stored near exits or escape routes. Flammable materials should be stored away from heat and flame sources. Garbage, packaging and other waste should be regularly removed from the construction site to reduce the risk of accidental fires.
Firefighting Equipment
Water sources, sprinklers, fire extinguishers and other firefighting equipment needs to be kept on-site and maintained. The type of fire extinguishers and other fire fighting equipment depends on the type of combustible materials on the job site – flammable liquids and gases require different types of extinguishing devices than burning material, electric or metallic fires. The quantity and location of firefighting equipment should also be included as part of your fire safety program to meet OSHA and state fire safety regulations. In addition, firefighting equipment requires periodic safety inspections, maintenance and testing to meet compliance stipulations.
Employee Training
One of the most critical components of any fire prevention program is employee training. All new employees need to be properly trained on all fire prevention safety protocols and existing employees need continuing education on new fire hazards. Some of the employee training that should be implemented as part of a fire prevention program include:
General fire prevention protocols
Safe equipment use
Electrical fire prevention
Safe material storage
Smoking policy
Proper use of fire extinguishers and firefighting equipment
Employee safety should always be a top priority to prevent injuries. Employees are also one of the highest risk factors for starting construction site fires. Proper training can reduce risks of employee injury and asset loss caused by preventable construction fires.


Outsourcing Your Fire Prevention Program Management

There are countless regulations and compliance standards that should be covered within an effective fire prevention program for construction sites. To protect your business and avoid fire safety compliance violations, consider outsourcing management of your construction fire prevention program. SafetyPro Resources offers safety management, safety auditing and employee training services to fine-tune your fire prevention program.

The right fire prevention program can significantly reduce your risk of construction site fires. To learn more about updating your fire prevention program in the Gulf Coast area, contact us at SafetyPro Resources. Call our office in Baton Rouge, LA, at (800) 941-0714 to schedule a free safety consultation with one of our specialists.