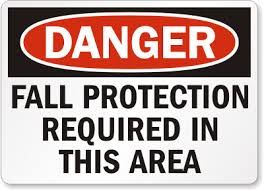 Falls are one of the most common causes of serious injuries and deaths on job sites each year and they are the leading cause of deaths in the construction industry. Successful fall prevention focuses not only on making sure written programs are in place but that a true safety culture is activated engaging employees in education and training for working at heights and elevations including inspecting and utilizing PPE properly.
Employees can often become so accustomed to heights, lifts and climbing that they forget just how easily and quickly a fall can happen. Employers should strive to ensure a safe working environment for all employees when it comes to elevated work stations, focusing to prevent employees from falling off of overhead platforms, elevated work stations or into holes in the floor and walls.
Some proper means that employers should take to prevent falls are to use guards or a floor hole cover for every floor hole into which a worker can accidentally walk into, using railing and toe-boards on elevated open sided platforms and runways, and providing safety harnesses, safety lines, safety nets, stair railings, hand railing, and guard railing.
OSHA requires that proper fall protection be provided when employees are working at elevations of four feet in general industry workplaces, five feet in shipyards, six feet in the construction industry and eight feet in long shoring operations. OSHA also requires that fall protection be provided when working over dangerous equipment and machinery, regardless of the fall distance.
June 2 – 6, 2014 OSHA will launch into the National Safety Stand Down Initiative which focuses on the prevention of falls on the job.
The goal of this national campaign is to prevent fatal falls from roofs, ladders, and scaffolds by encouraging residential construction contractors to:
• Plan ahead to get the job done safely.
• Provide the right equipment.
• Train everyone to use the equipment safely.