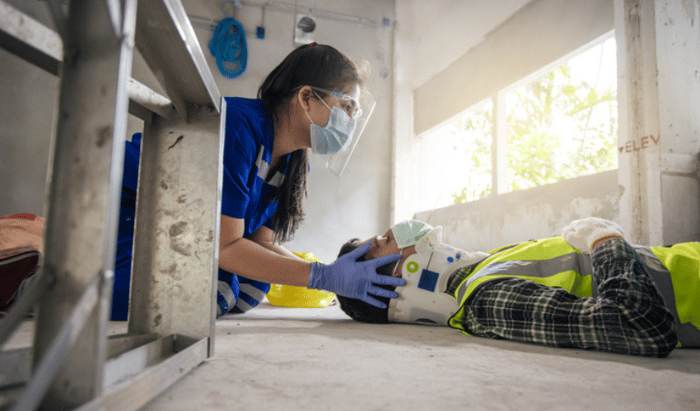 Falls are the number one cause of injuries and fatalities in the construction industry. This means that, as a construction employer, you should pay significant attention to providing fall protection for your workers.
Discover the 5 steps needed to develop an actionable rescue plan, and learn more about how your plan can help keep your employees safe and your company OSHA compliant.
What is a fall rescue plan?
A fall rescue plan is a safety plan for employees working in elevated environments. Its purpose is to create a safe working environment at elevation. Joined with a fall protection plan, a rescue plan details the steps to take if a worker falls.
It's important to analyze every construction site's fall hazards and assign fall protection methods and equipment that should be used to prevent accidents. No two fall rescue plans will be the same, because no two construction job sites are exactly the same. Each plan is created to address specific hazards and outside factors that could create fall risks, such as inclement weather or overhead power lines.
Falls can happen to anyone at any time, so it is essential to have a rescue plan in place. This facilitates swift action for an imperative rescue that could prevent injuries and save lives. There are two OSHA standards that make a fall rescue plan a requirement on every job site:
Let's take a closer look at what should be included in a fall rescue plan.
creating a fall protection and rescue plan
OSHA has created a template which can be used to create and implement a viable fall rescue plan. Among many standards and guidelines, it also highlights the five main steps to creating and implementing a successful fall rescue plan.
Identifying hazards
Selecting proper PPE
Creating a formal, written fall protection and rescue plan
Training employees & practicing rescues
Refreshing training as needed
Fall protection systems are the best way to keep elevated workers safe on every construction site. While having protective gear and a protection system in place are both required and imperative to safety, they're not enough on their own. No protection plan is foolproof, so it's essential to also develop a fall rescue plan should an accident arise.
Identify Fall Hazards
It's essential to always survey the working area before work begins. Each job site and project will have varying hazards, even if the job is similar to one done in the past. It's important to treat each job like a brand new start and survey the site closely for fall hazards before starting work.
Some common fall hazards include:
Open roofs/ceilings
Tripping & slipping hazards like debris or power tools on rooftops
Unsafe and/or unsecured ladders
Unguarded roof edges
Inclement weather
Nearby power lines
Select Proper Protection Equipment
Based on the fall hazards you have identified for this particular site, you should designate specific Personal Protection Equipment (PPE) to be used by every employee. PPE for elevated work includes:
Safety harnesses
Shock absorbing lanyards
Self-retracting lifelines
Roof anchor points and hardware
Remember to communicate with workers and make adjustments continuously to ensure everyone knows how to use the PPE correctly. Equipment should not be uncomfortable to wear for hours at a time.
Make sure items like harnesses fit snugly without being too tight or too loose. Inspect all fall PPE components for wear or damage before each use.
Write a Formal Fall Protection and Rescue Plan
Fall Protection and Fall Rescue Plans often go hand in hand. These plans should exist before work even begins; coming up with a plan after a fall is too late. A Rescue Plan will ensure standard operating procedures are clearly outlined, roles for every employee have been identified, and a specific rescue activity is in place.
There are three common rescue scenarios to choose from:
Self-rescue (90% of rescues happen this way)
Assisted rescue with ladder
Assisted rescue with mechanically aided aerial lift
Train Employees and Contractors
OSHA requires all construction contractors and employees to train and practice for fall rescue. This is the only real way to ensure your employees understand their roles and what is required in case of a fall. According to OSHA, prolonged suspension from a fall arrest system can cause serious injury or death; therefore, they emphasize that rescues must be prompt and accomplished within 30 minutes.
Routine fall rescue practice with employees and contractors will ensure that everyone understands their role in the rescue plan. This can include the person who calls emergency services, whoever is responsible for clearing the area, and those in charge of the physical rescue. Be sure to practice with a timer to emphasize speed as well as technique.
Refresher Trainings
Refresher training is perhaps more important than the initial rescue training. Fresh reminders and practice keep training top of mind for all employees and contractors. Refresher fall rescue training should be at least an annual event, if not more frequent, depending on the size and scope of current construction projects. If anything has changed since the previous training, such as employee turnover or new equipment, adjust your plan accordingly so everyone knows their role and required actions.
come prepared with a fall rescue plan
Creating a fall protection and rescue plan for your site is imperative for keeping workers in high elevations safe. While developing these plans and providing training can consume valuable time, they should not be rushed—safety should always be a top priority.
An expert safety consultant can help take the guesswork out of developing critical rescue plans. Safety consultants are well-equipped with the latest industry knowledge to ensure your team is safe and that your site is fully OSHA compliant.