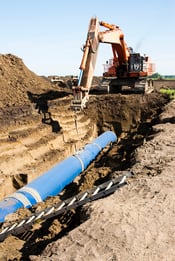 Recently, a trench collapsed at a jobsite not far from our home office where one person died and the other was severely injured. Trench boxes were available on site at the time but were not being used. This incident brings to light the importance of not only having proper trenching equipment available but also ensuring that all workers understand how to prevent excavation fatalities
The Incident
At the bottom of the 15-foot trench, two workers were trapped because safety protocols were not in use. Firefighters were called to the scene and immediately began attempting to dig out the men from the sides of the trench. Because there were huge piles of excavated dirt on the side of the trench, the team realized they may be risking a second collapse and stopped to try another approach.
The rescue team applied sheets of plywood to reinforce the sides of the trench. Two ladders were also brought in, one laid across the trench and the other lowered. The firemen used a large vacuum truck to suck out the debris. Two hours later, they rescued the surviving worker who was immediately transported by emergency medical technicians.
How It Could Have Been Prevented
Next to the trench collapse were three trench boxes. While having necessary protective materials to perform job tasks safely is crucial, it does no good unless workers are in fact using them. This was a huge factor in this case. See OSHA's 1926 Subpart P, which applies to excavations and trenches.
What This Means for Your Company
Whether you are the owner or supervisor, you should ensure that workers have the following when working around excavations:
Proper training
Safe access in and out of the trench
The trench is inspected on a daily basis
Means for egress every 25 feet of every worker for trenches 4 foot or greater
Clear pathways
Correct sloping or shielding where applicable
Where applicable, workers must have proper training on how and when to use trench boxes, as well as proper shoring techniques. In addition, they should have an understanding of the whistleblower laws enacted by OSHA that give them the right to stop work if in danger.
Our condolences go out to the family of the young man that died performing their jobs. The best way that we can honor his memory is by preventing this from occurring. Begin by inspecting your sites on a daily basis. You can download our free excavation inspection checklist by clicking the button below.