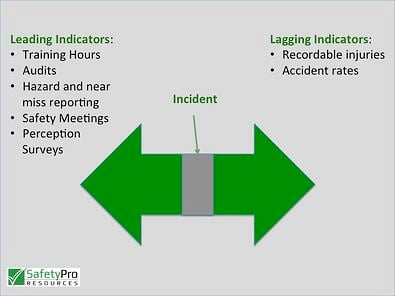 According to Kyle Morrison's article in the February 2014 issue of Safety and Health Magazine, tracking your company's performance on key leading indicators can be an effective way of preventing workplace safety incidents.
Leading indicators are measurable activities that, when monitored, can lead to the identification and elimination of workplace risks injuries. The theory is that by controlling the leading indicators, such as the amount of safety training you provide, you can control the lagging indicators, such as your injury rate.
Some of the leading indicators he suggests tracking include:
Training. There is evidence that, in general, more hours of training leads to less accidents. Track the hours of training your employees attend and you should see a decrease in safety incidents as the hours of training are increased.
Assessments and Audits. Have a safety professional walk through the job site and identify potential hazards or lack of compliance with safety procedures. Doing this on a regular basis can help you correct issues before an accident happens.
Hazard and Near-miss reporting. Encourage your employees to report hazards and near-misses so that you have the chance to fix hazards before someone gets hurt. Tracking the reported hazards and the corrective actions done in response ensures nothing got overlooked.
Safety Meetings. Companies that have frequent safety meetings with employee engagement tend to have fewer accidents than those that do not.
Appropriate Funding for Safety Management. How well the safety department is funded demonstrates a company's commitment to safety goals and can be an indicator of a safer workplace.
Perception Surveys. Getting feedback from your employees can help you identify the strengths and weaknesses of your company's safety culture and highlight specific areas for improvement.
When choosing what to track, it is important to look at your organization's numbers to see which indicators predict safety for you. Not all of these work for all employers. Including the leading indicators in your Monthly Safety Activity Report can point out potential weaknesses in your safety programs. Then, by comparing the data you collect against your actual incident rates, you will be able to determine the most relevant leading indicators that you should track at your company.