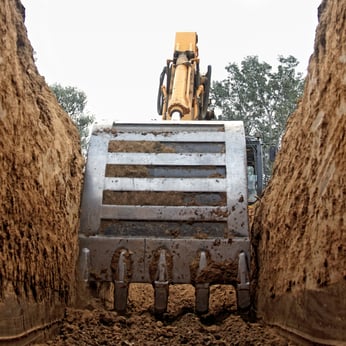 Mankind began digging into the earth thousands of years ago, and now our planet is crisscrossed with sizeable holes for all manner of purposes. The modern construction industry often has the need to dig trenches or larger excavations, and this is dangerous work. The Occupational Safety and Health Administration (OSHA), a large division of the United States Department of Labor, has issued strict guidelines for safely excavating dirt and working in such areas.
OSHA defines an excavation as "any man-made cut, cavity, trench or depression in the earth's surface formed by earth removal." A trench is "a narrow underground excavation that is deeper than it is wide, and is no wider than 15 feet." Data from OSHA also shows that from 2000 - 2009, 350 workers lost their lives in accidents related to trench or excavation collapses, averaging 35 per year.
Obviously, trenching and excavation safety is of primary concern to construction concerns and businesses. SafetyPro Resources, based in Baton Rouge, LA, and serving the Gulf Coast, offers safety consulting, custom safety management services, and more to construction companies of all sizes. Here are some important areas where attention can increase trench and excavation safety.
Protective Systems
Considering that approximately one cubic yard of dirt can weigh around 3,000 pounds (or the weight of a compact car), protective systems are a must when trenching or excavating. But many factors enter into choosing the appropriate type of protective system. These include nearby operations, surcharge loads, soil classification, the depth of the cut or excavation, soil moisture content, and weather or climate-related concerns.
An appropriately trained and knowledgeable safety officer must evaluate these and other factors and then develop an emergency action plan and protective system. Then, all workers must be trained on the hazards of the trench or excavation, the use of tools and proper visible clothing/gear, and how to respond in the event of an emergency. As excavations get larger and deeper, the operations carried out within them become more complex, and the need for improved safety is crucial.
OSHA provides specific guidelines for constructing and inspecting different protective systems. The three main types are:
Sloping- This involves digging away the trench wall at an angle inclining away from the excavation.
Shoring- These operations involve installing supports to hold back dirt and prevent movement or cave-ins.
Shielding- This involves constructing protective boxes or other supports to prevent cave-ins and allow workers to move around safely within the excavation.
These measures must also be inspected daily by a trained and knowledgeable person to determine if any changes in conditions warrant additional support or other safety measures before work can continue. In addition, there must be safe access and egress to all excavations placed within 25 feet of all workers.


The Importance of a Competent Person Overseeing the Operation

Safety experts routinely emphasize the importance of having a competent person to oversee the excavation or trenching operations. This person should be intimately familiar with OSHA regulations and be able to instantly recognize any potential hazards or changing conditions that could cause harm. In fact, OSHA provides some guidelines for this competent person in various industries. These are not mandated regulations, but guidelines to help the designated person perform their tasks.

SafetyPro Resources, LLC can provide candidates or training for the competent person on your excavation site. We can also provide Custom Safety Management and Compliance Services for your entire project, allowing you to focus on the construction-related aspects. Outsourcing vital safety operations to a team of professionals is a sound practice to protect your company and your workers.

For more information about safety training and compliance for your business, call the safety professionals at SafetyPro Resources, LLC in Louisiana. We take care of your company's safety compliance, so you can focus on running your business.