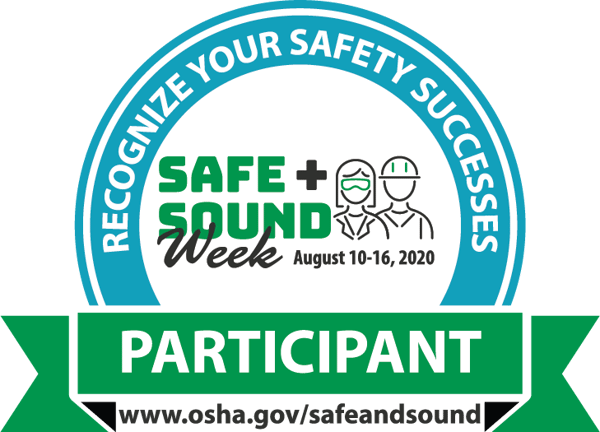 Health and safety in the workplace have never been more critical. 2020 has brought new challenges for almost all industries when it comes to providing a safe work environment. All year long OSHA helps employers promote workplace safety with the Safe + Sound campaign, with special emphasis during Safe + Sound Week. To spearhead your organization's commitment to employee safety, consider participating in OSHA's Safe + Sound Week, August 10-16th, 2020.
What is the Safe + Sound Program?
The Safe + Sound program is designed to help businesses incorporate safety and health programs within their organization. The goal is to decrease worker injuries and fatalities in the workplace through a comprehensive program that addresses safety awareness at all levels. Safe + Sound is a year-long program that stresses how implementing a safety and health program can benefit not only workers, but the profitability, production and economic health of the business. Some of the key factors of safety and health programs supported by Safe + Sound include:
Preventing injuries and illness of workers

Reduce employee injury costs for the business

Improve productivity and performance

Meet safety compliance obligations and regulations

Engage worker participation and management leadership

Find and fix hazards
Every business is different and may have various areas of opportunity to improve safety. Safe + Sound Week is an excellent time for companies to build awareness for new safety and health programs or reveal the accomplishments of existing programs.


How to Participate in Safe + Sound Week 2020

Improving safety and health awareness has been an ongoing theme for all businesses in 2020. However, there are many more safety issues than just the spread of viruses that can impact your employees and your bottom line. The Safe + Sound Week event is a great opportunity to highlight some of your safety successes and begin new initiatives for the next year. Last year, over 3,300 businesses participated in Safe + Sound Week throughout the country. There is no cost to participate, and OSHA provides many ideas and promotional graphics for businesses that join in the event. Here are the three easy steps to participate:
Sign up to participate

. You can register for Safe + Sound Week for 2020 on the OSHA website. You only need to fill out a short form with your business information. Your business will be represented on the Safe + Sound Week participants map on the OSHA website.
Plan and promote your events.

You can plan private or public events for Safe + Sound Week to bring awareness to your health and safety program. OSHA has ideas and graphics available to help promote your events.

Recognize your participation.

Once Safe + Sound Week is over, download your participation certificate and challenge coin from the OSHA website.
At SafetyPro Resources, we can help your business in the Gulf Coast area meet your safety and health program goals. Our team can help perform employee safety training, safety audits, hazard analyses and many other safety management services. Let us help you implement your health and safety programs for Safe + Sound Week 2020 and the rest of the year. Contact our office in Baton Rouge to schedule a free consultation.