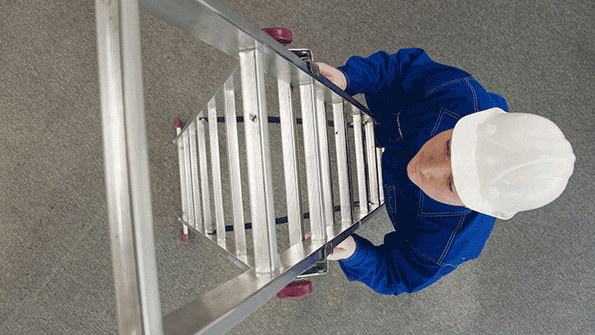 The International Association of Certified Home Inspectors® (NACHI) reports some startling statistics gleaned from the World Health Organization. This data places the US as the leading country for ladder-related fatalities. Further, they relate that over 164,000 ladder-related injuries require treatment from an emergency care facility, and 300 deaths occur per year from ladder-related accidents.
Falls from ladders are also the leading cause of deaths on construction sites. Proper ladder use begins with safety. The first step in using a ladder is to always perform an inspection to ensure the ladder you choose is in good condition. Just a few minutes could prevent a serious accident, injury or fatality.
Recommended Ladder Inspection Checklist
First, inspect the ladder you choose to ensure it is the correct one for the job. You should always begin with a physical inspection of the ladder. Check for the following:
• Steps and rungs are free of oil, grease, wet paint and other slipping hazards.
• The feet work properly and have slip-resistant pads or metal spurs, depending on the type of ladder.
• Rung locks and spreader braces are functional.
• All movable parts operate freely without binding or excessive play.
• All bolts and rivets are secure.
• Ropes are in good condition and are not frayed or overly worn.
After making sure the ladder you have chosen is in good working order, you should perform a thorough inspection of the area in which you will be working. Use the following tips to be sure you are using the ladder safely and correctly.
• The surface under the ladder is level and firm.
• The ladder's feet are properly positioned.
• The ladder is safely anchored.
• The ladder's locking devices are in place.
• The area where you will work is free of electrical cables or other equipment.
• The area around the ladder is roped off with a safe perimeter distance so others can stay clear.
• A leaning ladder is erected with proper distance from the supporting structure, an approximate 4:1 angle (for every 4 feet of height, the ladder leans 1 foot).
Remember, ladder safety involves everyone. Use this handy acronym to remember the proper use of ladders in the workplace, provided by Louisville Ladder, Inc. and their C.L.I.M.B. Academy Safety Training.
1. C: Choose the right ladder for the job.
2. L: Look for damaged or missing parts.
3. I: Insure a safe, stable set-up.
4. M: Move carefully, using three points of contact.
5. B: Be a safety expert, not a statistic.
Safety Training for Your Team
Your most valuable company resources are the people on your team. Wise business owners invest in a strong safety program to protect their team and prevent accidents and injuries. This includes proper training on choosing the right ladder for the job, inspecting each ladder for safety before each use and clearly marking unsafe ladders for repair or disposal.
SafetyPro Resources founder Lance Roux has over 20 years of safety experience along the gulf coasts of Texas and Louisiana. His name and the SafetyPro brand are synonymous with safety and workplace safety training. Lance and SafetyPro Resources offer customized safety training for a variety of different industries and contractors. We also offer a free safety consultation to determine your company's needs.
SafetyPro Resources is your Gulf Coast Safety Management Specialist. Don't skimp when it comes to investing in the safety of your team. Contract the experts from SafetyPro Resources for all aspects of your safety training and compliance reporting. Call 800-941-0714 or contact us online today to schedule your free consultation.