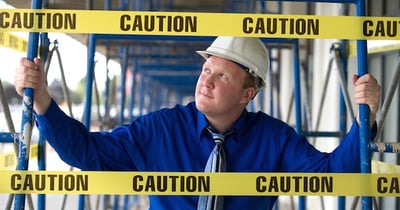 Do you know someone who is deaf or hearing-impaired? Where do they work? I recently heard about Mozzeria. "Mozzeria is ranked among the top pizza places in San Francisco, and it is also notable for being entirely owned and operated by people who are deaf," said Tracy Smith. The story about Mozzeria is fantastic and has inspired me to shine a spotlight on ensuring the safety of those workers who are deaf or hearing-impaired.
Even if you are not a die-hard fan of CBS' Sunday Morning like I am, I encourage you to watch "Pizza by the Deaf" and learn more about Mozzeria. Watch Now
Discrimination Elimination
Job hunting is a grueling process, but imagine how grueling it would be for someone who is deaf or hearing-impaired. How many jobs require you to talk on the phone? Attend meetings? Evacuate during an emergency? Someone who is deaf or hearing-impaired could present significant challenges for almost every employer, but they deserve to be considered for the role just as much as someone without hearing disabilities.
"I was born deaf. Sound never existed in my life, and this is completely normal to me." - Nyle DiMarco
"Your rights are covered under Title 1 of the Americans with Disabilities Act (ADA). Title 1 prohibits employers, employment agencies, labor unions and joint labor-management committees from discriminating against individuals with disabilities. Title 1 applies only to employers with 15 or more employees." – National Association of the Deaf
"The ADA does not require applicants to disclose that they have or had a hearing impairment or another disability unless they will need a reasonable accommodation for the application process (e.g., a sign language interpreter). Some individuals with a hearing impairment, however, choose to disclose or discuss their condition to dispel myths about hearing loss or to ensure that employers do not assume that the impairment means the person is unable to do the job." – Equal Employment Opportunity Commission
Cue Effective Communication
"In 2014, for deaf people, the most common [occupational] field is manufacturing, with 13.2% of deaf people employed, and the least common field is utilities (1.1% employed)." – National Deaf Center. Employing someone who is deaf could certainly present challenges because effective communication would be at risk. Accommodations would certainly need to be in place to effectively communicate safety training, emergency instructions, and general procedures. "For those with severe and profound hearing losses, a common safety concern is localization. For example, knowing forklifts are in the area, but not knowing where they are coming from. Fortunately, accommodations and equipment modifications are available to assist hearing-impaired workers to perform their jobs safely." – OSHA.
"The art of communication is the language of leadership." - James Humes
OSHA recommends the following to reduce the risk of miscommunication and resulting injuries:
Strobe lights or vibrating alarm signals placed in all areas occupied by hearing-impaired workers,
Vibrating watches or other type of body alarm that is strapped on to the individual to alert a hearing-impaired worker,
Exit signs set to flash when an emergency alarm sounds,
Use tape, paint or ropes to highlight paths of travel for forklifts, vehicles and heavy equipment,
Position a rear vision camera so that a vehicle operator will be able to see behind him/her.
OSHA also recommends the following training accommodations:
Captioned videotapes,
Computer-assisted notetaking,
Web-based training,
Tape recorded meetings for the purpose of transcribing later.
Are You Hearing Me?
Ensuring the safety of any employee is challenging. Whether or not the employee is deaf or hearing-impaired should not interfere or alter your approach in executing effective safety measures at your job site.
"To me, ideas are worth nothing unless executed. They are just a multiplier. Execution is worth millions." - Steve Jobs
How difficult would it be to design and develop safety procedures and safety training while considering workers who are deaf or hearing-impaired? Your company may not currently have any deaf or hearing-impaired workers, but you probably will save valuable time and money if you proactively plan accommodations before the time comes to hire someone who will need them. This will no doubt set your organization apart and everyone will hear your mission of ensuring the safety for deaf workers – loud and clear.