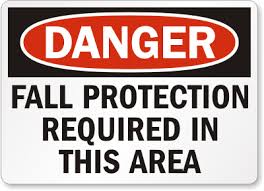 According to OSHA, falls are the leading cause of death in construction. Fortunately, they are easily prevented by keeping your employees aware of common fall hazards and empowering them to report and correct these hazards as soon as they are observed. Fall protection training should address the following common fall hazards:
Obstacles in walkways and work areas. These are easily avoided by cleaning up spills immediately and removing clutter from walkways
Wet, slippery surfaces. Make sure your employees wear proper footwear with slip-resistant soles. If forced to walk on slippery surfaces, take shorter steps to maintain your footing.
Drawers and file cabinets left open. Close all cabinets and drawers when not in use.
Stairs, escalators and ramps. Use the handrails.
Obstructed view. Avoid carrying anything you can't see over.
Improper use of ladders. Practice the 3 points of contact rule for ladder safety. Use a stepladder to reach things on high shelves. Make sure you always face the ladder when climbing up or down.
Floor holes. Prevent falls into floor holes by using a guardrail and toe guard or covering the hole.
Open sided platforms. If a platform is over 4 feet off the ground, use guardrails and toe guards to prevent falls.
Dangerous equipment or machinery. If there is a risk a worker could fall into a dangerous piece of equipment (such as a conveyor belt or chemical vat) provide guardrails and toe guards.
Other situations. Other fall prevention strategies include safety harnesses and lines, safety nets, stair railings, and handrails.
Fore more information on how to prevent workplace injuries due to falls, see OSHA's Fall Protection Page which has numerous resources you can use to train your employees. You may also want to take a look at the ANSI/ASSE Z359 Fall Protection Code published by the American Society of Safety Engineers.