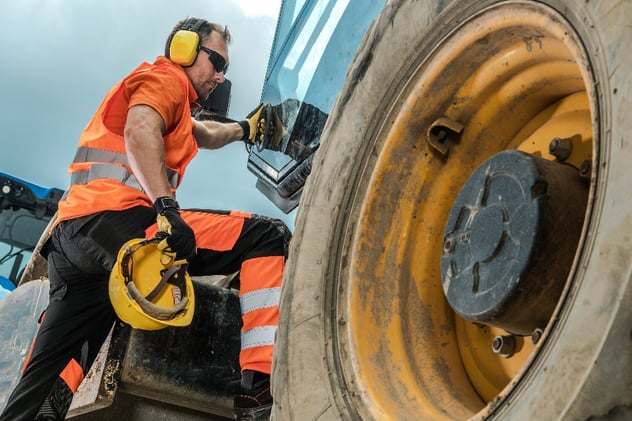 Struck-by work accidents are among the most dangerous types of safety concerns, especially in the construction industry.
According to the CDC, struck-by accidents are the top cause of construction nonfatal injuries and the second highest cause of fatalities. Due to the serious nature of these types of construction injury accidents, it is vital to invest in reducing the risk of struck-by accidents by increasing worker awareness and knowledge through safety training.


Types of Struck-by Construction Accidents
Struck-by events or accidents occur too often on construction sites. It is estimated that construction workers have twice as many nonfatal struck-by injuries each year as all other industries combined. These accidents occur when a worker is struck by an object, vehicle or equipment, causing an injury or fatality. The most common types of construction struck-by injury accidents include:
- Falling solid debris
- Unsecured equipment or tools
- Falling materials
- Discharged or flying objects
- Powered vehicles – non-transport
- Vehicles striking workers
All types of construction worksites are at risk for struck-by injuries, but roadway construction has the highest occurrence of struck-by fatalities. The highest danger is from pedestrian-vehicle accidents in the work zones, accounting for an estimated half of work zone construction fatalities. Hundreds of workers lose their lives each year in struck-by construction fatality accidents, many of which could be prevented by following the correct safety protocols.


Prevention of Struck-by Construction Injuries
Training and awareness can have a dramatic impact on reducing struck-by injuries and fatalities for construction workers. Not only can this protect your employees, but it can protect your bottom line. In 2017, CPWR and NIOSH estimated that struck-by construction injuries cost $1.7 billion in compensation. Investing in training and employee awareness can greatly reduce the chance of these dangerous events, improving work conditions and minimizing worker compensation expenses.

The majority of struck-by construction nonfatal injuries are from falling objects – about 96%. Falling material, debris, tools, equipment and other objects can strike workers, causing serious injuries. Some of the prevention methods include tethering tools to work belts, wearing protective gear and securing loads to prevent slipping. Training can help workers understand the best practices to avoid struck-by injuries, including certifications on all equipment/tools, proper loading/lifting techniques and using the necessary safety gear.

Struck-by fatality prevention is vital for construction work zones with motorized equipment and vehicles, especially on the roadways. Providing barriers between workers and vehicles, increasing worker visibility, and the use of protected pedestrian pathways can reduce the risk of struck-by fatalities. OSHA provides training modules to avoid the fatal four – falls, struck-by, electrocutions and caught in/between – that should be shared with workers to help keep them safe on the job.


Construction Safety Training to Prevent Struck-by Injuries
At SafetyPro Resources, we are your trusted source in the Gulf Coast region for safety training to protect your workforce and bottom line. We offer advanced safety training courses to help you meet all OSHA and safety regulations, and more importantly, reduce workplace accidents and struck-by injuries. We offer onsite and off-site training options, as well as online training modules, to meet your needs.
Contact us at our office in Baton Rouge to learn more about our safety training course for preventing workplace injuries.