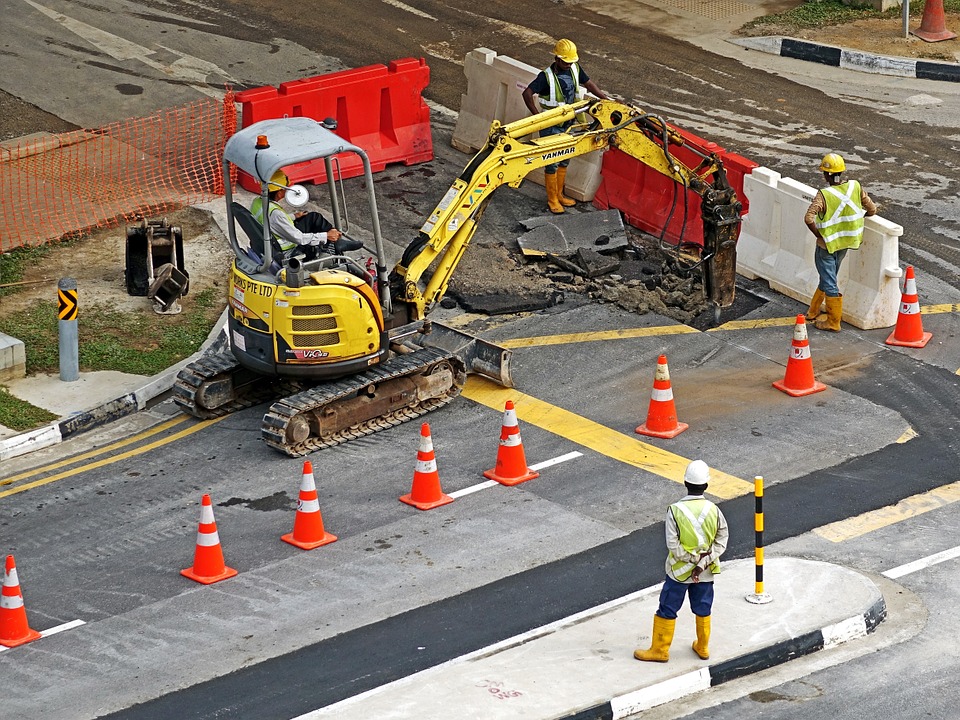 Perhaps one of the most dangerous work-related environments is the roadway work zone. Between 1982 and 2017, about 773 people lost their lives in work zone crashes each year. From 2003 – 2017, 1,844 workers were killed in roadway work zones. Obviously, busy workers, construction vehicles and equipment, and passing motorists are a dangerous mix.
The need for regular and comprehensive safety training for roadway work zone safety is paramount. Employers must do all they can to equip and protect workers from harm in what is an inherently dangerous work environment. SafetyPro Resources, LLC can perform a safety audit and other services to help your company learn and improve in the area of worker safety in many areas, including roadway work zones.
Important Roadway Work Zone Safety Factors
Among the most basic safety factors in any roadway work zone are:
Knowledge of the work zone layout, including worker and motorist traffic zones

Temporary traffic control devices

Flaggers

High-visibility apparel for all workers

Personal safety equipment for workers

Illumination of the work zone

Internal/construction traffic control

Equipment operation training

Equipment maintenance

Training for operating equipment around foot workers

Training and certifications on various job roles

Motorist education/warnings

Speed/safety enforcement
As you can see, roadway work zone safety training is a complex, multi-faceted task that requires expertise and competency in many areas. Multiple injury risks are present and conditions can rapidly change without warning. Roadway work zone workers must practice the utmost diligence to do their part toward keeping the work zone safe. But there must also be measures in place to help motorists do their part as well.


Measures for Safer Roadway Work Zones

Some collaboration between the construction industry and roadway user stakeholders has identified areas where increased knowledge, training, and awareness can reduce the risk of roadway work zone accidents and fatalities.

Driver Impacts

Motorists who travel through roadway work zones pose some of the most significant hazards of all. Two main hazards that place roadway work zone workers at risk are speeding and distracted driving. Speeding through a work zone and not paying close attention to what is happening around you are the most common causes of roadway work zone accidents.
Increasing the use of technological signage with large, digital displays can educate drivers long before entering the work zone of the dangers and changing conditions. More stringent enforcement of construction zone regulations for speed and driving habits could also help.

Worker Impacts

Most accidents in roadway work zones that do not involve passing motorists involve foot workers and construction equipment. Many construction vehicles have a high clearance or otherwise provide limited visibility, and this raises the risk of a crushing accident when operators cannot see nearby foot workers. Vehicle trackers on the ground to warn workers, warning lights on vehicles, and better safety practices for operators and foot workers can help reduce the risk of serious accidents.

Training for Roadway Work Zone Safety

SafetyPro Resources, LLC can work with your company and employees to conduct a safety audit and refresher safety training to keep employees knowledgeable, alert, and safe while in the work zone. When your employees are literally surrounded with risks to their health and safety, any investment into increased safety is warranted.

Our safety experts can work with you to create just the right plan to educate your workers and help them remain safe while performing their work in roadway work zones. We can also help you with process safety management and safety staffing for a variety of roles and industries. Call SafetyPro Resources, LLC at 800-941-0714 or send an online message to inquire about our safety training for roadway work zones.