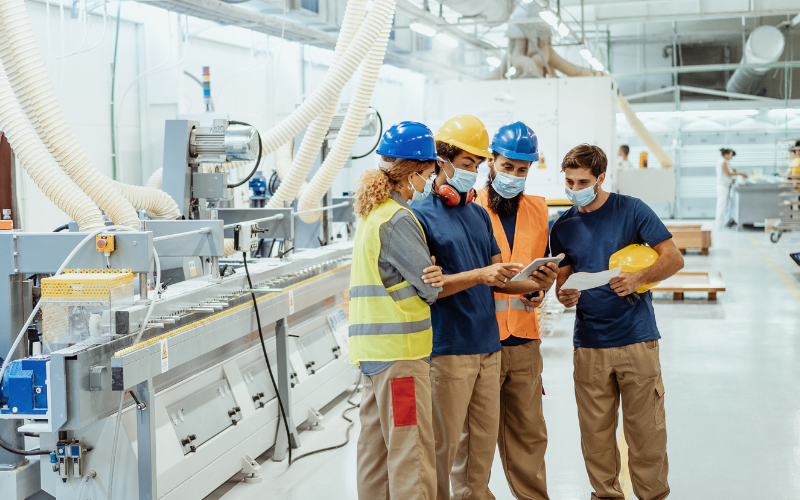 While overseeing and directing projects on site, you likely have a laundry list of tasks fighting for your attention. Between directing your workers and subcontractors, tracking inventory for materials and equipment, preparing internal and external reports, and consistently meeting deadlines, it's easy for workplace safety to take a back seat.
Working with a team of safety management professionals allows you to prioritize worker safety, without needing to sacrifice any more of your time or other duties. SafetyPro consultants work with you to develop a customized plan specific to your business's needs and budget. We offer a range of services to help address any safety concern, big or small, and keep your workers safe and your site compliant.
Safety Consulting Services with SafetyPro
The first step in helping you correct the safety concerns on your site is recognizing that not every business will have the same safety needs. While some businesses reach out after an accident or failed OSHA inspection, others take the proactive route and rebuild their procedures from the ground up through safety consultation.
Whether you need a fast and effective corrective action plan or are looking to refresh your contractors' training certifications, we can customize any plan to address your direct needs.
Safety management
Our safety management services are incredibly flexible and serve as the best base-line to determine where you need safety help most. While larger companies may have their own in-house safety and health programs, many small businesses, mom and pop shops, and first-generation companies don't have this luxury. Since needs can change over the months and years, and immediate concerns often take priority, we'll help manage your site's safety in whatever capacity that fits your budget best.
This is an ideal service for those who have recently been visited by OSHA, have had an on-site accident or incident, or have been told to strengthen their safety program through insurance. With safety management, we can also take on more administrative duties, like filling out questionnaires or developing safety manuals, to help your team earn contracts with bigger clients.
Available hourly or through a monthly retainer, our main goal is to serve as your back-office safety department, ready to respond in case of an accident or if OSHA shows up on site. More than anything, we aim to provide peace of mind as you tackle your day-to-day duties and leave safety concerns with the professionals.
Safety training
Creating a safe working environment and maintaining OSHA compliance starts with comprehensive safety training. We offer a range of training courses to help address any holes in your contractors' knowledge. While many courses are available online for remote learning, we also happily provide in-person training at our facility in Baton Rouge or at your location.
We offer courses in equipment and machinery safety, accident preparedness, and even basic first aid and CPR, as well as any other course needed to meet OSHA certification requirements. Our current course catalog includes, but is not limited to:
Aerial lift safety
Accident/incident investigation techniques
Electrical safety
Fall protection awareness
Fire prevention
Forklift safety
Heat safety training
Lock out/tag out
OSHA 10
OSHA 30
PPE
Recordkeeping
DOT HAZMAT
Safety auditing
OSHA compliance rules and regulations are constantly changing and evolving, and it can be difficult to know where your existing safety program stands. Having started out in this industry conducting safety audits for bigger companies, the safety professionals at SafetyPro know audits inside and out—so they know exactly how to make sure your site is audit-ready.
Our safety audit process can help you identify major gaps in your existing safety program. We can then offer recommendations for immediate improvement that will put you in a much better position for your next, official audit.
Safety staffing and recruitment
When a new project comes in, especially on short notice, the last thing you need is the hassle of trying to vet and hire safety professionals. We offer both short- and long-term staffing and recruiting help to keep your projects safe and timely.
If you're in need of a long-term worker like a site safety manager, our safety specialists can find the perfect candidate for you. We can handle recruiting, lining up and conducting interviews, eliminating bad-fits, and even conducting orientation and a probation period once a candidate has been selected for hire.
Similarly, if you're working on short projects with quick turnarounds, you likely deal with an influx of new contractors every couple of weeks or months. We can build out your safety staffing team to observe these short-term projects, provide oversight to new and current contractors, and report back to your main safety team should any concerns arise. This helps eliminate stress associated with the higher turnover needed for short-term projects, while saving you time to build out your safety staff.
SafetyPro Takes Care of Your Company's Safety Compliance
We all know that safety should be a top priority in any workplace. However, the reality is that many site managers are stretched too thin to properly supervise every aspect of worksite safety. Trusted third-party agencies, like SafetyPro, can take on the monotonous duties needed to maintain OSHA compliance and overall worker safety.
Safety consulting services not only save you time and money in the long-run, but help your company control compliance costs, reduce workplace risk factors, and improve overall staff performance and efficiency. Reach out today for a free 30-minute consultation and find out how we can improve your site's safety program.