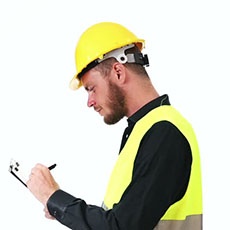 Does that sound a pen makes when a safety inspector clicks it open cause sweat to pour down your face? That repulsive sound when you know a box is about to be checked or a note is about to be written. A site safety inspection is a collection of observations and conditions in the workplace. Its purpose is to protect employees by providing a proactive method for recognizing, evaluating and controlling hazards in order to minimize the potential for accidents, injuries, property loss, or environmental damage. When was your last inspection? What was the outcome? Who completed it?
Do You See What I See?
Some may see inspections as a waste of time and resources. The outcome does not matter as long as you stay in compliance. Do you also see inspections as a way to record hazards and document corrective actions before OSHA comes knocking? If so, then you are on the right road but some fog could be obscuring your vision.
"An inspection is a snapshot in time. As the saying goes, if a tree falls in the woods and nobody is there to hear it, does it make a sound? The same goes for safety inspections - if work occurs and there is nobody to evaluate it critically for safety, was the work done safely?" - Cary Usrey (OH&S)
Effective inspections should seek opportunities to praise worker safety and not just criticize unsafe actions. Positive recognition enhances your safety culture and boosts morale, so do not let a good moment get away. Effective inspections are also best completed by an outsider. Professionals who are not affiliated with your company can offer the highest objectivity. A fresh pair of eyes may just be that fly on the wall that sees what no one else did… do you see?
I Spy Something… Unsafe!
When it comes to the classic game, "I Spy," players have to guess the object that the spy saw. The spy uses clues without revealing their choice. An inspection is certainly not a game and it is certainly not completed by a spy. Nonetheless, the game requires no equipment, can be played just about anywhere and involves as many people as you want – much like an inspection.
Inspections focus on the salient details without loosing focus on the big picture. Since they are designed to recognize, evaluate and control hazards while minimizing injury and loss, then they are a way for you to play offense instead of defense.
Your day is undoubtedly filled with challenges and temptations from your team and your clients, but you cannot deny that a proactive approach is the only place to be. Correct? Need help?
Call-to-Action
A site safety inspection only works with management commitment and employee involvement. To do it well takes time, so why not let professionals help set your sights on your safety? Our safety professionals have an eye like an interior designer. They can spot the good (and the bad) while at the same time recommend long term solutions for your workplace. Asking for our expertise is not a sign of defeat but rather a step in the right direction. Inspections will stimulate your safety culture and collaboration will establish a team of safety champions. We are here to coach… never police.