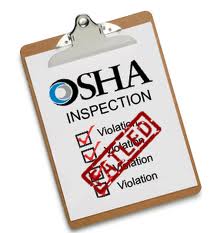 An ongoing study being conducted at Boston University which analyzes the impact of OSHA enforcement press releases on overall compliance is yielding interesting findings. Results from the study reveal that an enforcement press release that highlights fines and violations from a recent inspection bears impact on similar businesses in the given area resulting in fewer violations at subsequent inspections.
In 2009 OSHA adopted a national policy of sending out press releases when the fines proposed exceeded $40,000-$45,000 based on the given region. Since its enactment the OSHA press release policy has found supporters as well as has met sources of criticism particularly from employer attorneys and business groups for being what they consider a means of singling out and shaming a business before an employer can contest the violations.
The study most certainly provides interesting data that shows that on average the number of violations within a business sector where a press release was issued decreased by 50 percent compared to there being no release. Preliminary findings from the study support OSHA's policy of issuing press releases on cases containing significant penalties. Analysis of the study will continue throughout the summer and a final report regarding the findings is expected.