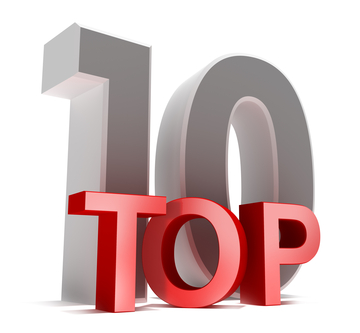 Let's throw the typical weight loss resolutions out the door and commit to a change that can save lives and save money! Injuries on the jobsite, not only cost your company money, they also cause stress, hostility, and loss of reputation. Rid the new year of this by taking control of the hazards on the jobsite.
The following is a list of OSHA's top ten citations for 2016 and how to avoid them:
Fall Protection- general requirements (1926.501) - 6,906 violations.
Check-up on workers' safety performance, especially when tying off on rooftops. Employees become complacent if not reminded of the hazards. Make sure the foreign-speaking employees get equal, if not, more training. Protect edges that have a six foot drop or more with sides/rails. Use bright and sturdy guards around floor opening, holes, and skylights.
Hazard Communication(1910.1200) – 5,665 violations.
Observe where employees are complacent or untrained then, improve where it is needed. Create an effective system of communicating hazardous chemicals coming in or being produced at the jobsite- this can be done by using GHS labels on containers, piping, and all material that is received. Refer to SDS of hazardous chemicals as safety talk topics.
Scaffolding(1926.451) – 3.900 violations.
Tie off or use railing on scaffolding that is more than ten feet to the next level. Inspect scaffolding for damage, loss of plank boards, or open sides that are missing guardrails. Use cross-braces to assist on means of egress from scaffolding.
Respiratory Protection (1910.134) – 3.573 violations.
A medical evaluation is required before an employee is fit tested. Create worksite-specific procedures in the respiratory protection plan. Monitor fit test expiration dates. Evaluate respiratory hazards during each safety walkthrough.
Lockout/Tagout (1910.147) – 3,406 violations.
Continually train and educate employees on LOTO procedures. Authorized personnel should be self-assured and lead by example. Conduct periodic inspections, especially when controlling energy is in a busy area.
Powered Industrial Trucks (1910.178) – 2,855 violations.
Monitor certification expiration dates. Create and perform evaluation procedures for competent employees. Give employees confidents in reporting damage on daily inspection log sheets. Maintenance/repair requests should go through two layers of management.
Ladders (1926.1053) – 2,625 violations.
Educate employees how to use ladders properly and provide logical ways to transport objects up or down. Inspect ladders for structural defects regularly. Put bright tape on the top step of the ladder reminding employees to never use it as a step.
Machine Guarding (1910.212) – 2,448 violations.
List the exact machine guards in each area to be checked during the safety walkthrough. Ensure fixed machinery is anchored. It is cheaper to replace machine guarding if it is damaged than to pay an OSHA fine or Workers' Comp. All fans should have guards if they are less than seven feet off the floor.
Electrical- Wiring Methods (1910.305) – 1,937 violations.
Always hire a credible certified electrician to perform work on wires. Get a competent person to look over the electrical repairs in order to question/verify there is no obvious mistakes.
Electrical- general requirements (1910.303) – 1,704 violations.
Use GFCI systems as much as possible, especially when using high powered tools. Try to eliminate the use of extension cords by getting more outlets installed where needed. Avoid cords in walkways- this can damage cord and cause tripping hazard. Tape electrical cords down if it is necessary.
Walk through your jobsite and look for areas where safety may be a concern. It is likely that you will probably see several of these hazards listed in the top 10. Falls, electrocutions, struck by objects, and caught between objects are responsible for more than half of occupational deaths, which is how they got the name "the fatal four." These hazards clearly need to be addressed though jobsite inspections, but more importantly, though a formal safety management system. Use this list as a resource to help create short-term and long-term goals. Do not let this year be the year you get an OSHA violation or an employee injury. Stay proactive and integrate safety in all operations within your organization this year.