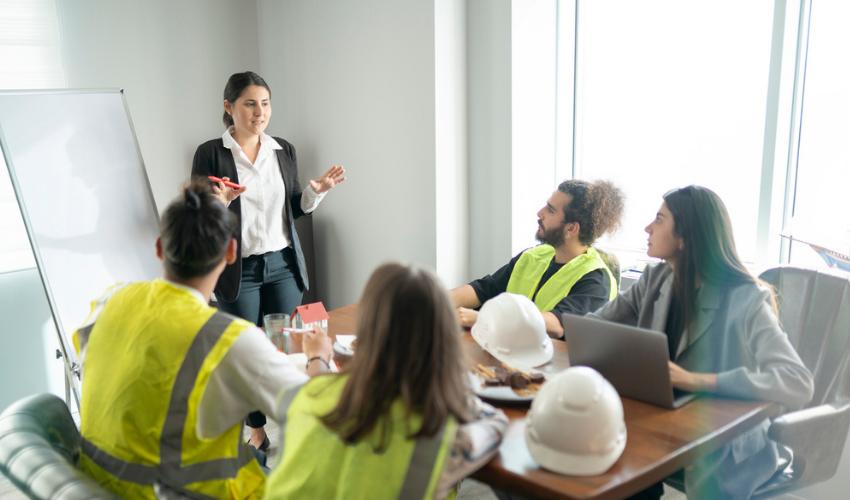 OSHA Training For Contractors
When you assign an employee or contractor to perform work, you need to be confident that they have the right safety training, and that you have the documentation to prove their credentials.
OSHA has very specific criteria they require as evidence of adequate training. With ever-changing regulations, state-specific requirements, and multiple training options, how can you be sure the certifications you get are the ones you need? While OSHA provides some good guidance, working with a safety consultant can ensure you are in compliance and your employees are safe.
OSHA Training Standards According to the US Department of Labour, OSHA has reduced workplace fatalities by 66% since it was founded in 1971. Over this time, OSHA has found that private industry construction workers had a fatality rate that was three times larger than other industries, with four key construction hazards making up over 80% of job-site fatalities:
○ fall hazards
○caught in/between hazards
○struck-by hazards
○electrocution hazards
In response to these findings, OSHA has made certain training requirements for the sake of construction worker safety – all OSHA outreach training courses are required to protect workers from catastrophic outcomes. This training must be coupled with site-specific training and certifications required by law. By partnering with authorized trainers, OSHA has created a way to navigate the training requirements and get the certifications you need.
What is OSHA Outreach Training?
OSHA Outreach Training is designed to promote workplace safety, improve worker knowledge of workplace hazards and inform employees of their rights. With online and in-person options, authorized training partners deliver on a schedule that works for you. It is important to remember that only authorized training providers can provide valid certification cards meeting OSHA standards.
Outreach training results in the issuance of an official Department of Labor (D.O.L.) OSHA card, also known as an "OSHA 10" or "OSHA 30" card. 10-hour training is recommended for every construction worker, while 30-hour training is recommended for all construction employees with supervisory or safety-related duties. Many workers choose to carry their cards on their person on sites, while others are required by law to have their cards with them at all times.
Is OSHA Training Required?
Outreach training is not an OSHA requirement but is a voluntary addition to your health and safety program. Despite not being a formal OSHA mandate, it still helps you meet many of the OSHA training requirements in a flexible and cost-effective way. Even though it is not mandatory everywhere, certain states, jurisdictions, or employers may still require it. It is your responsibility to know what is needed for your specific situation.
Regardless of where you work, remember that Outreach Training is not a substitute for OSHA-mandated regulations. You must provide specific training on-site and specialized certifications required for employees to perform certain work. In addition, the following states do require the OSHA Outreach Training in addition to site-specific training and additional certifications where applicable:
Connecticut - All construction workers for public projects paid for by any amount of state funding where the total cost exceeds $100,000 must receive the training.
·Florida - Required for all employees on any Miami-Dade County project exceeding $1,000,000. The requirement is for both public and private projects.
·Massachusetts - Required for construction workers at any public sector project.
·Missouri - Required on public work projects at the state or municipal level.
·Nevada - Required for general construction employees (10-hour) and any supervisors (30-hour).
·New Hampshire - Required for all workers on public works projects exceeding $100,000.
·New York - Required for all workers on public works contracts exceeding $250,000.
·Pennsylvania - Required for all employees (10-hour) and at least one supervisory employee (30- hours) performing construction or demolition in Philadelphia.
·Rhode Island - Required on municipal and state construction projects totaling $100,000 or more.
·West Virginia - Required on any public improvement project exceeding $500,000.
RELATED CONTENT: HOW TO CHOOSE A SAFETY EXPERT WITNESS
While some certifications have required retraining requirements, general safety training is only required
often enough for employees to perform a task in a consistently safe manner. OSHA recommends annual training, but if an employee demonstrates unsafe work practices, retraining may be required sooner. A safety consultant can help assess your workplace safety and training concerns.
Find the Training You Need with the Help of a Safety Consultant
Changing regulations and requirements can make it hard to ensure you are complying, especially if you move between job sites. The situation is further complicated if you work across multiple jurisdictions. Failing to have proof of training, both general and specific, can result in fines, work stoppages, and injuries. Don't get caught without your documentation. Connect with a safety consultant for help identifying what training you need, minimizing your risk, and avoiding the financial repercussions of non-compliance.