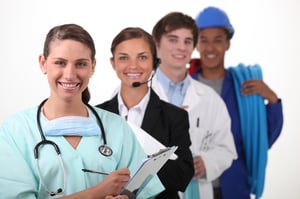 Hospitals and Medical Clinics Beware! Although safety professionals generally focus on general and construction industries when it comes to OSHA compliance, safety in the medical workplace is often overlooked. Last month Thomas Galassi, OSHA's Director of the Directorate of Enforcement, sent out a memorandum to all Regional Directors stating that the National Emphasis Program on Nursing and Residential Care Facilities would be extended until the an updated guidance was in place. The reasoning behind this; the health care industry continually reports occupational injury and illness rates above the industry average, and it doesn't stop there. On May 14, 2015, NIOSH, National Institute for Occupational Safety and Health, and OSHA released a Respiratory Protection Toolkit for Hospitals which give guidelines to health care employers on protecting employees from disease exposure. Both of these documents require employers to comply with the health and safety standards provided by OSHA.
To reduce risks, begin with an assessment of the workplace hazards and audit for regulatory compliance gaps. It is also viable to learn strategies from other hospitals that are successful in reducing their injury/illness rates.
We understand that this can be overwhelming, so to help out we will discuss just a few focus areas where hospitals and clinics should be OSHA compliant.
Respiratory Protection Program
Hospitals are one of the top workplaces in the US where injuries occur. Many illnesses are airborne, and while hospitals try to keep everything as sterile as possible, being proactive is the best form of protection. OSHA has clear guidelines on having a respiratory program in safety manuals. Within the Hospital Respiratory Protection Toolkit OSHA and NIOSH:
Requires health care employers to evaluate the work environment
Requires hospitals to develop a respiratory protection program based on the guidelines from the CDC.
Other Exposures
Illnesses are not the only risk factor at hospitals. Other risks may include slips and falls, biohazard exposures, sprains, strains, and needle sticks are just some of the many hazards medical care workers may face. We will be exploring more on these topics in the weeks to come.
Make sure your Safety Policies and Procedures are Up-to-Date
When auditing your safety management system, ensure that your written programs are up to date with current regulations. Our firm conducts in average of 100 safety management system audits per year, and in the majority of our findings, company written policies are often outdated or have not been revised with new regulations.
Get Help
In some cases, it's best to use an outside company to perform a mock OSHA inspection. Working with a third party safety consulting firm can be a great resource if your organization lacks specific expertise in this area. This can better prepare you for a surprise OSHA inspection.
By taking this one step at a time, you can improve worker safety in hospitals and save on OSHA fines. For more information on how to prepare, download our free guide on surviving an OSHA inspection.