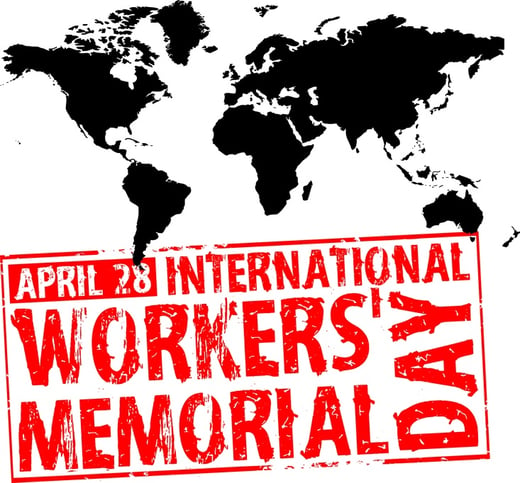 Across the country and throughout the world, April 28th is recognized as Worker's Memorial Day or International Commemoration Day (ICD) for Dead and Injured. This day is a time to honor those workers who have lost their lives due to injury or illness in the workplace. With the trauma of COVID-19 that has impacted many workers across the world this year, Worker's Memorial Day carries an urgent message to increase the focus on worker's safety.

In 2018, the number of worker fatalities increased 2% over 2017. According to the Bureau of Labor Statistics (BLS), there were 5,250 fatal work injuries in the U.S. in 2018. Transportation-related deaths remain the most common cause of worker fatalities, accounting for 40% (2080) of worker deaths. Other notable BLS statistics from 2018 worker deaths include:

•Unintentional worker fatal overdoses from medications or alcohol increased for the sixth year in a row. This is believed to be connected to the opioid epidemic.


•Fatal slips and falls decreased 11% to 791, attributed to a substantial decrease in falls to a lower level. This shows an improvement in safety measures implemented to reduce falls from ladders and other heights.

•There were more worker deaths from contact with objects and equipment, a 13% increase to 786 deaths. Falling objects and contact with equipment contributed to this increase of fatalities in this category.

While the number of worker fatalities did increase, the rate of worker fatalities remained the same at 3.5 worker fatalities for every 100,000 full-time workers.

Focus on Reducing Worker Fatalities

Worker's Memorial Day or ICD is just one day, but the focus on reducing worker fatalities and injuries need to exist year-round. Employers must have safety protocols in place to avoid unnecessary injuries and deaths. Following OSHA, CDC and other industry-specific safety guidelines in day-to-day operations can greatly reduce recordable injuries, with the goal of eliminating chances of fatalities.

The COVID-19 outbreak has brought more awareness to an overlooked area for some industries. While healthcare, food and service industries have long been concerned with the spread of disease, all workplaces need to be on alert. Sanitizing and disinfecting hands and surfaces has never been more important. The spread of COVID-19 in the workplace will have a long-lasting impact on how employers and employees view safety. Beyond physical safety measures, implementing safety protocols to prevent the spread of infectious diseases in all workplaces should be a priority for 2020 and years to come.

Learn from the Past, Prepare for the Future

Worker's Memorial Day is a chance for all workers and employers to honor those who have lost their lives in the workplace. Occupational safety measures have vastly upgraded over the decades since 1989 when Worker's Memorial Day was first recognized in the U.S., but there are many areas where they can be further improved. Learning from the past, including this year's COVID-19 outbreak, is vital to prepare for the future. Together, we can all make a difference to reduce worker fatalities and injuries with a focus on safety for all workers.

At SafetyPro Resources, worker safety is our mission. On April 28th, we will remember those that were unable to return home healthy and safe from their job. It is our goal to help our clients protect their workers and reduce the number of unnecessary and preventable workplace injuries and fatalities. Join us in honoring Worker's Memorial Day, but more importantly, learning from the sacrifice of lost workers to protect those still with us.

To find out more about how you can improve safety measures in your business or facility to prevent workplace injuries and disease, contact us at SafetyPro Resources. Call to schedule a workplace safety consultation at 800.941.0714 or contact us online.