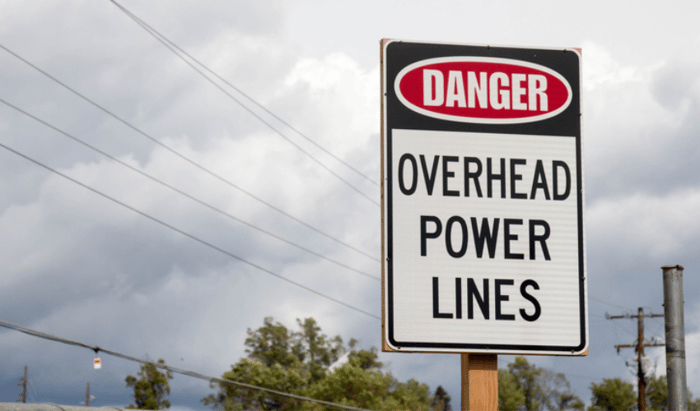 Although we know its inherent dangers, electricity's constant presence often leads us to let our guard down, even in the workplace. The statistics are a stark reminder: electrocution accounts for half of all on-site construction fatalities.
Protecting workers means reinforcing their understanding of the risks and dangers that come with working around electricity, and emphasizing this with strong policy, procedures and enforcement.
It's also important to remember that electricians are not the only ones who should be concerned with electrical risk. Any worker on your site can be impacted by electrical hazards, and should therefore take the necessary precautions.
Common electrical hazards on construction sites
While it may feel like common sense, it's never safe to assume that workers will recognize electrical hazards, especially if electricity is not a main component of their job. Although electricity may play a role in their work duties, be it powering their tools or using temporary lighting, even the most diligent workers can miss electrical concerns when focused on the job at hand.
Oftentimes, electrical hazards can go unnoticed, resulting in unsafe working environments. However, through proper safety training, hazard controls, and on-site reminders and signage, working around electricity can be safe.

To better protect your team on the job site, it's imperative to first understand the five most common electrical safety hazards in construction, and how to avoid them.
1. Overhead Power Lines
Holding an average of 345,000 volts of electricity, overhead power lines are a frequent source of electrical burns and electrocution. Site surveys should map the height and location of any nearby power lines. Safety barriers and signage can warn of the overhead danger and prevent materials from being stored below the lines, as well as protect workers operating cranes or lifts.
Set a minimum distance of ten feet between power lines and equipment to prevent potentially fatal contact. All workers should undergo training that specifically prepares them for working on a site with nearby power lines. This should include looking up when moving equipment, lowering equipment before maneuvering in areas where lines are present, carrying ladders horizontally to avoid accidental contact, not touching anything that falls against a power line, and what to do if a power line falls.
2. Damaged Tools and Equipment
Damaged tools can create a range of hazards including shocks, electrocutions, and even fires. Train workers to inspect their tools and equipment daily – checking the cables, wires, and cords for cracks, cuts, or other damage. If deficiencies are found, the equipment must be repaired by a qualified repairperson.
For electrical maintenance, Lock Out Tag Out (LOTO) procedures must always be followed. LOTO prevents unexpected energy flow and protects workers from electrocution.
All workers should understand the importance of LOTO, how to identify when a LOTO operation is happening, and never touch, tamper with or try to override a LOTO. Doing so can endanger not only the worker but also their coworkers, especially electricians.
3. Exposed Electrical Parts
Shocks and burns can be caused by open power distribution units, uninsulated portions of electrical cords or temporary lighting equipment. Exposed parts require immediate repair by a qualified person and exposed items require proper guarding and signage.
4. Improper Grounding
Electrical grounding allows excess energy an easy and safe way to get from the tool or equipment back to the power source, tripping the circuit if something goes wrong. It prevents the excess energy from discharging into the nearest source, usually the worker, which can result in burns and electrocution.
Tools and equipment typically have a third prong on their plugs, designed to fit the grounding socket of an outlet. The pin is identified by its round shape. It is extremely dangerous to remove this pin. Workers should be trained on the importance of grounding and the grounding pin – it should never be removed to make the tool's electrical plug fit into a socket or extension cord without a grounding socket.
In addition to training, ensuring that outlets are up-to-date and have the necessary grounding socket makes grounding pin removal less likely. However, as tools move between sites and sometimes workers, plugs should be examined during equipment checks and those without ground pins must be immediately removed from service.
5. Wet Conditions
Ensure workers do not operate electrical equipment or tools in wet locations, as it greatly increases the risk of electrocution. Outside of the impact of weather, wet conditions can be common on construction sites as water plays a key role in mixing cement concrete, controlling dust when dirt is being moved, and curing work.
Be aware of any area where large amounts of water will be used on-site and organize electrical tools and equipment accordingly. If tools do get wet, they should be inspected by a certified electrician immediately before being used.
Preventing electrical hazards in adverse conditions also includes using ground-fault circuit interrupter (GFCI) plugs, watertight and corrosion-resistant wiring and receptacles, proper PPE, and proper tool and equipment checks.
Final thoughts
Regular and up-to-date training is the best way to keep you and your workers safe and OSHA compliant. Understanding the job site, performing hazard analysis, educating those on-site of the current electrical risks, and ensuring a comprehensive safety plan is in place are all key to the overall well-being of your business and workers.
Safety Consultants can work with you to identify training or knowledge gaps in your team to ensure you are compliant and prepared for your next job.