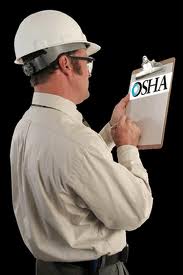 It can be stressful when OSHA shows up on your site for an inspection. OSHA inspectors are authorized by law to conduct safety inspections at places of employment, and they genererally conduct safety inspections without prior notice.
So what can you do to make sure you put your best foot forward during a surprise inspection?
Display your committment to workplace safety. Display the official OSHA Poster on your company premises. Also, obtain management commitment to safety and display a committment to safety statement.
Conduct your own safety inspections on a regular basis, or better yet, have an outside safety consultant come in to do an audit. This will allow you to catch a lot of issues and correct them before OSHA catches them or any employees are injured.

Make sure all of your safety programs and records are readily available and up to date. Determine which OSHA standards and regulations apply to your job site and make sure you have written safety programs on all required hazards. Make sure your OSHA 300 injury log is up to date. Safety programs, plans, and training records should be updated at least annually. A safety consultant can assist you with this task if you don't have the time to do it yourself.
Train your managers and staff on how to handle an OSHA inspection. They should understand the rights and responsibiliies of your company, as well as your company's policy with respect to access to the premises. They should know how to respond to OSHA inspectors, law enforcement personnel, and building and fire inspectors when they come on site. It is also a good idea to have them take photos or video during the inspection of any hazards pointed out by the inspector.
Review previous OSHA citations and ensure any issues have been corrected.
These are just a few tips, and there is a lot more you can do to prepare yourself. For the full list of best practices, download our Free Checklist at the link below.