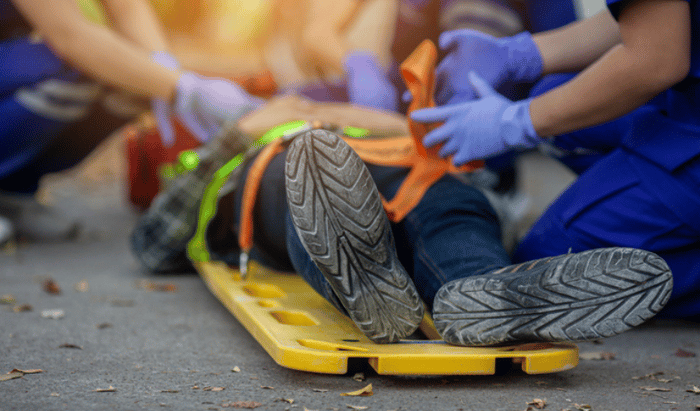 Despite an industry-wide focus on reducing construction accidents and workplace injuries, the numbers speak for themselves.
Construction workers make up only 5% of the private U.S. workforce, yet they account for an astonishing 20% of all private workplace fatalities.
The best way to avoid construction injuries is by understanding what causes them in the first place and putting in preventative measures. With that in mind, let's talk about the most common construction site accidents, their root causes, and how to avoid them altogether.
What are the most common construction site accidents?
Accidents can happen at any point and lead to a range of consequences, from heavy OSHA fines to serious injury, workers comp claims, and even death.
OSHA collects and tracks data on every site it visits, helping it identify larger trends. Four key causes, dubbed the "Fatal Four" by OSHA, make up more than half of all worker deaths.
These types of accidents are united as the most deadly, costly, and common across the country, but their causes can be extremely varied: equipment or heavy machinery failure, outdated training, scaffolding issues, fire, and weather can all cause an accident on their own or together. Let's explore the "Fatal Four" in depth, as well as how to prevent them.
Falls
OSHA includes falls from heights, slips, and trips in its definition, which covers a huge variety of potential accidents. Falls from heights are the leading cause of fatalities in construction, in part because the risk of falls on construction sites is so high due to floor and roof openings, surfaces that lack strong support structures, and heavy reliance on scaffolding and ladders.
Most falls are typically caused by uneven surfaces, improper mounting or dismounting of equipment, improper ladder use, or a lack of fall protection equipment. In contrast, slips and trips are often caused by misplaced items, spills, or leaks that can impede movement.
To prevent these and other causes of falls, OSHA recommends that workers on your site:
Wear and use personal arrest equipment

Install and maintain perimeter protection

Cover and secure floor openings

Label floor opening covers

Use ladders and scaffolds safely and cautiously
When prioritizing safety from falls, slips, and trips, you'll want to make sure you and your workers have all these bases covered.
Struck-By
OSHA defines a "struck-by" as the impact between a person and an object or piece of equipment. This can include being hit by a machine or falling materials, and covers any injury produced by forcible contact or impact between a person and an object or equipment.
Most struck-by injuries can be avoided through PPE, hardhats, and safety glasses. However, sometimes even proper protective equipment isn't enough.
Stay alert and aware of your surroundings at all times, and make sure to wear high-visibility clothes when near equipment and vehicles. Never position yourself between moving and fixed objects on site. This puts you at risk for both a struck-by and a caught-in/between accident. Make sure your team's safety training is up-to-date to stop accidents before they happen.
Caught-In/Between
Caught-in/between accidents happen when a worker's body is caught, crushed, squeezed, compressed, or pinched between two or more objects—this could include a vehicle trapping someone against a wall, a limb being pulled into a piece of machinery, or materials collapsing on top of someone.
Prevent these accidents by never entering an unprotected trench or excavation without adequate protection, ensuring your trench or excavation is protected by sloping, benching, or trench shield systems, and keeping your hands and limbs away from moving equipment. Lastly, consider the risk that gloves, long sleeve shirts, jewelry, and long hair present on site and either place limitations on these accessories, or take extra caution when they are present.
Electrocutions
Electrocutions can cause some serious injuries, including nerve damage, muscular contractions, and cardiac arrest. In the worst cases, it can be deadly. Most commonly, the resulting injury is a burn.
Electrocution injuries and accidents tend to result from unsafe equipment or installation, as well as an unsafe environment or unsafe work practices. OSHA regulations cover not only the design and use of electrical systems, but their construction and installation.
Staying OSHA compliant is critical when working with electricity. Prevent accidents by:
Locating and identifying utilities before starting work

Looking for overhead power lines when operating any equipment

Identifying and maintaining a safe distance from power lines

Operating portable electric tools only when they are grounded or double insulated

Using ground-fault circuit interrupters for protection

Being alert to electrical hazards when working with ladders, scaffolds, or other platforms
Prevent Construction accidents with a safety consultant
While construction presents a host of inevitable risks, it is imperative that your whole team is aware and focused on preventing accidents. Falls, struck-by accidents, caught-in/between injuries, and electrocutions can be avoided by following OSHA guidelines.
Safety consultants can help audit your team and your site to find any holes in knowledge or training, discover any safety hazards, and ensure the site is OSHA compliant. Get the outside perspective you need and keep your team safe.