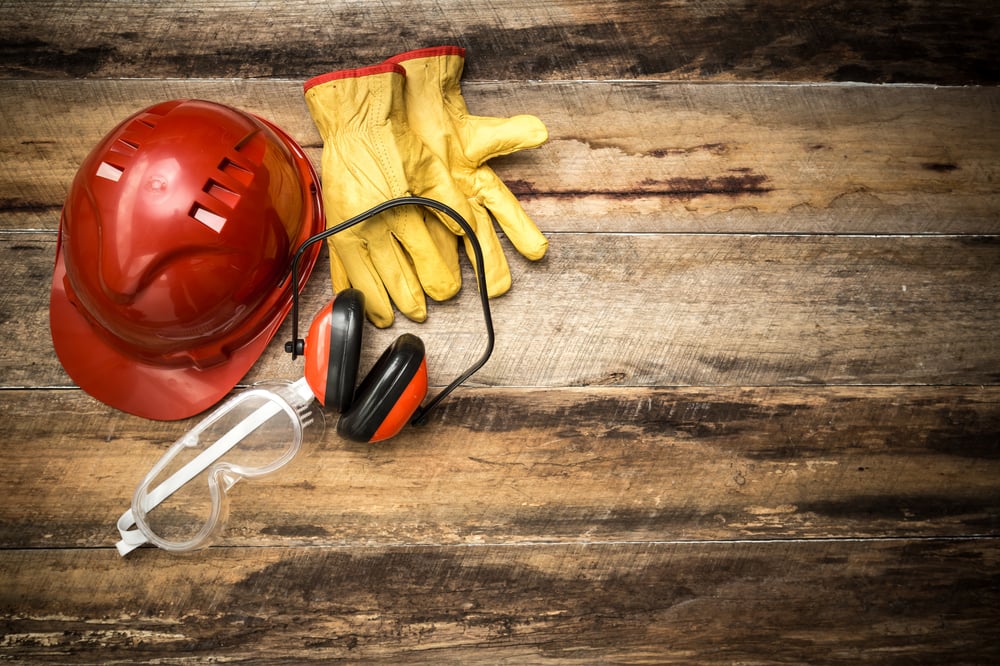 New construction projects are popping up everywhere and the cycle of new beginnings, renovations of history, and vast expansions on the planet show no signs of slowing down. What better time than to review the top four construction hazards and ways we can strengthen our focus to identify, reduce, and eliminate them? Construction is a high hazard industry where workers engage in many activities where hazardous exposures can lead to serious injuries. The time to act is now because "the future depends on what you do today."
According to the U.S. Bureau of Labor Statistics, the construction industry led in the number of fatal work injuries with nearly 1,000 lost in 2016. What is causing our hard-working construction workers to not make the commute home?
1. Falls from Elevations (e.g. worker killed after falling 40 feet to the ground when installing asphalt shingles).

2. Struck-By (e.g. worker killed after being struck by falling tree).

3. Caught-In/Between (e.g. worker killed in trench collapse).

4. Electrocution (e.g. worker electrocuted when drill tower contacted overhead power line).

TRENDING UP
On December 19, 2017, the U.S. Bureau of Labor Statistics reported there were a total of 5,190 fatal work injuries recorded in the United States in 2016, a 7-percent increase from the 4,836 fatal injuries reported in 2015. Over 5,000 employees never made the commute home. Over 5,000 families were struck with the grief of losing a loved one. Over 5,000 families deserve better from organizations everywhere to prevent unsafe working conditions. The number of construction fatalities jumped from 937 in 2015 to 991 in 2016 with the Specialty Trade Contractors subsector suffering the greatest loss. What do you suppose happened in 2016 to cause the numbers to trend up? A superb COSS instructor answered that question this past February, "More people went back to work. The economy was up and unemployment was down." More projects, tighter deadlines, and inefficient safety training might be the cause and effect that led to such complacency in the workplace. Why not start at the pre-construction phase when considering worker safety? "A job well planned is a job well done." Being safe, instead of appearing safe, is an important component of proper planning which, after all, is what ongoing success is all about.
PREVENTION through DESIGN (PtD)™
"One of the best ways to prevent and control occupational injuries, illnesses, and fatalities is to 'design out' or minimize hazards and risks." The National Institute of Occupational Safety and Health (NIOSH) leads a national initiative called Prevention through Design (PtD) intended "to promote this concept and highlight its importance in all business decisions." A challenge with PtD comes from the architectural community. Architects are the designers and concerned with aesthetics while constructors are the builders and concerned with safety. PtD ignites collaboration between both parties (and more) and brings hazard elimination to the design stage.
The PtD process kicks off with a design team meeting between the:
-Owner,

-Architect,

-Project Manager, and

-HSE Professional.
The team's objectives include: 1) Establishing PtD expectations, 2) Discussing construction and operation perspectives, and 3) Identifying the PtD process and tools. From there the process moves through the design itself, internal and external reviews, and the actual construction. The reviews are inclusive and value perspectives from trade contractors, engineers, owners, and HSE professionals.
Adopting the PtD Initiative results in notable benefits such as:
-Reduced site hazards and fewer injuries,

-Fewer delays due to accidents, and

-Increased designer-constructor collaboration.
GO BIG AND BUILD SAFER
Our HSE professionals are experts in identifying workplace hazards and risks associated with design decisions, and we are ambassadors of the PtD Initiative. New construction projects are on the horizon. Before breaking ground tomorrow, learn more about PtD today and start incorporating occupational safety and health considerations in the designs. Partnerships and collaborations offer big opportunities for construction companies to build safer work zones. Let's start trending up in a better way and eliminate construction hazards together. Employees everywhere are counting on us. "Alone we are smart. Together we are brilliant."