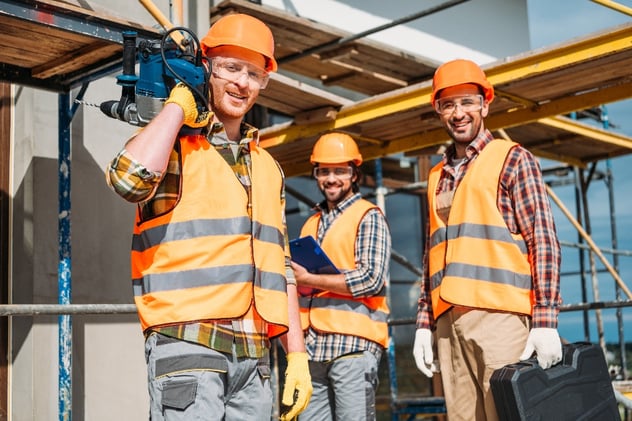 Wearing a hard hat is one of the basic safety requirements before anyone steps onto a construction site. Moving objects, falling debris and low beams can all pose injury risks to the head, which is why OSHA requires all construction workers wear a helmet.
OSHA rule 1926.100 states that construction employers must provide head protection to all employees that meets specific standards. Here are tips on how to choose the right hard hat for the best head protection, as well as how to inspect head gear and the importance of wearing a hard hat.

Head protection on construction sites is crucial for protecting against head injuries. It is not only falling tools, materials or debris that could land on the head; head protection is meant to protect against flying objects, electrical shock, burns and running into low beams. Not all hard hats, even those meeting OSHA safety standards, can protect workers from all these hazards. It is important to consider the various features available to choose the best head protection.
Hard Hat Features
There is not one hard hat that is perfect for all construction work. While more protection is always better than less, comfort and personal preference are factors. Workers on a job site with few falling or moving hazards may prefer a lighter weight hard hat versus a heavier design for high-risk areas. Some of the features to consider when purchasing head protection include:

1. Risk direction. There are two types of risk directions when choosing hard hats. Type 1 only protects from items striking the hard hat from above; type 2 protects from both above and side/flying hazards.
2. Brim. Hard hats come in full-brim and front-only brim. Both offer some protection from light in the eyes, but full brim provides additional protection around the outside of the head.
3. Electrical protection. There are three classes of hard hats regarding electrical protection. Class C has little protection against electrical shock. Class G can protect against low voltage and Class E is designed to protect against high voltage.

In addition to the traditional hard hat, there are also safety helmets that many construction companies are using for head protection. This gear is designed to give more protection with features like face shields, chin straps and extra padding. Safety helmets can provide better protection to the side and back of the head for construction sites with extreme moving hazards.
Inspecting Hard Hats for Damage
Hard hats are an essential piece of PPE for all construction workers, but they do take a beating and weaken with exposure to the elements. Workers and management should constantly inspect hard hats to look for signs of damage that can reduce their effectiveness. UV light, weather, wear and impact can all reduce the level of protection a hard hat provides. Head protection should be inspected for signs of wear on the shell and suspension and replaced as needed. Some signs to check for when inspecting hard hats include:
- Cracks, chips, dents or gouges in the shell
- Tears or frays in hat suspension straps
- Stiffness, chalky-appearance, fading or dullness to thermoplastic
- Press the sides of the hat in one inch – it should restore immediately to its original shape

If any components are worn or the elasticity of the hard hat is waning, it should be replaced.

Any person stepping onto a construction job site should be wearing a hard hat or helmet that meets OSHA guidelines. This benefits workers and employers by reducing the risk of serious injuries, keeping workers safe and on the job. Purchasing the best head protection for workers is a wise investment for employers who care about their workers and meeting their production goals.

At SafetyPro Resources, it is our goal to help our clients find the right balance of safety and production to be successful. If you want to improve your safety metrics for your construction company, contact our team to discuss our safety management and training services. Contact us today for more support and read our....
Related Content you may be interested in:
How Hard Hat Classes Reduce Work-Related Injuries
Safety Training for General Contractors