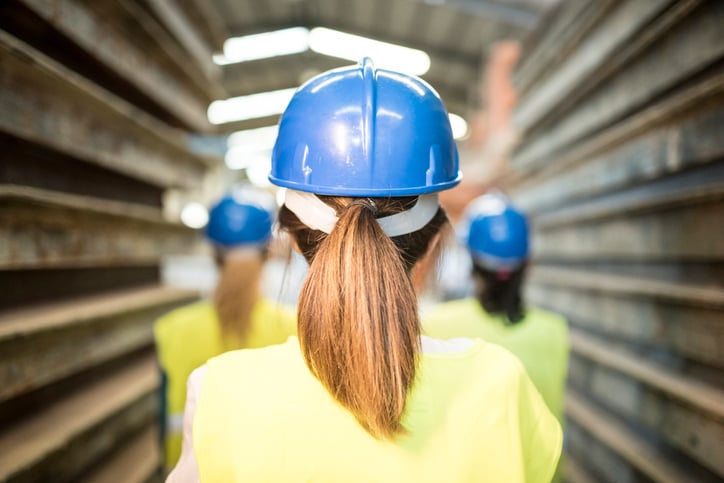 Hard hats are a requirement on many job sites to protect workers and prevent work-related injuries. While most companies comply with the OSHA head protection standard and ensure workers have access to protective gear, not all companies provide adequate hard hat training. There is more to using hard hats than requiring use – workers should know about the 10-point checklist inspection, correct use, and different types of head protection. To reduce work-related injuries and protect your workers, consider the benefits of hard hat training for your company.
Most workers on construction and contracting job sites understand that hard hats are important for safety. Falling and flying objects can be dangerous and hard hats can protect workers from serious injury. However, not all hard hats are created equal – there are different grades and types which are designed for improved protection for certain job types. Plus, hard hats can be damaged and will deteriorate, which is why workers should know how to inspect their helmets. Hard hat classes can educate workers on how to choose the right hard hat and maintain it to reduce the risk of work-related injuries.
Work-Related Head Injuries
Head injuries accounted for an estimated 9% of all reported work injuries, according to the Bureau of Labor Statistics (BLS) in 2019. Hard hats are one of the best ways to prevent or reduce the severity of head injuries on job sites. Increasing the use of hard hats and the right type can minimize head injuries, which is why training is important. When workers understand how their helmets can prevent serious injury and how to improve the effectiveness of their gear through hard hat classes, they are more likely to adhere to proper protocols to prevent work-related head injuries.
Hard Hat OSHA Regulations
According to OSHA standard 1926-100(a) on head protection, "Employees working in areas where there is a possible danger of head injury from impact, or from falling or flying objects, or from electrical shock and burns, shall be protected by protective helmets." The regulations regarding hard hats include what hard harts meet OSHA standards, which includes helmets that meet the minimum criteria created by ISEA and the ANSI. Different hazard areas also may require different hard helmet criteria. For example, workers who are near electrical hazards or conductors will need hard hats designed to protect them from electrical shock and burns. OSHA regulations are included in most training on hard hat use to ensure employees understand the importance.
Topics Covered in Hard Hat Classes
Simply handing a hard hat to workers and telling them to wear it is not enough to prevent work-related head injuries. Training is important to ensure workers know about the different types of helmets how to properly adjust and wear their hard hats. It is also vital that workers know how to inspect their helmets for wear and tear, and when they should replace their hard hats.
Some of the topics covered in hard hat training include:
○Types and classes of hard hats – top or side impact protection, electrical shock protection
○Caring for hard hats
○10-point checklist
○Identifying hard hat damage
○Replacing hard hats
○Adjusting hard hats for improved fit and protection
While hard hats are a simple form of personal protective equipment (PPE), there is information that can ensure workers know the best way to use their hard hats.
When the right hard hat is used and maintained, it can reduce the risk of work-related injuries that can result in time away from work and lost productivity.
7 Ways Hard Hat Classes Reduce Work-Related Injuries
A short hard hat class for workers can give them the knowledge they need to utilize their helmets and prevent unnecessary injuries. This benefits the worker by keeping them safe and it can also impact your company by reducing costs associated with worker injuries. Training on the importance of wearing hard hats, helmet maintenance, and the OSHA regulations can directly impact the reduction of work-related injuries by:
Reducing avoidable electrical injuries

Which hard hats are the safest for different hazardous environments

Minimizing injuries caused by hitting fixed objects

Fewer injury risks from falling objects

How to inspect hard hats for damage/wear and when to replace helmets

Understanding what elements cause damage/wear to hard hats

Increasing awareness by all workers on hard hat safety
Safety training like hard hat classes can protect your employees and reduce your work-related injuries. At SafetyPro Resources, we offer options like PPE training on-site and at our training facility in Baton Rouge, LA to educate on hard hat use and care, including the 10-point checklist. To learn more about our training options, call our team or download our safety training catalog through our website.