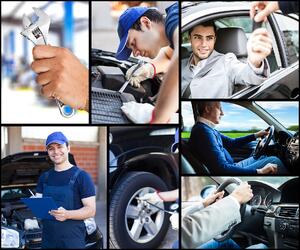 The Bureau of Labor statistics has done a report that states fatal transportation incidents have decreased by 10% in 2013. Despite this, these incidents account for roughly two of five fatal work injuries in the same year. According to a recent article in Professional Safety magazine, OSHA does not regulate driving across the board. However they do have guidelines for reducing vehicle crashes. It is vital that employers establish a safety program that: saves lives and reduce the risk of future injuries among the employees, protects their organization's financial and human resources and avoids the financial impact of accidents.
OSHA supports the Network of Employers for Traffics Safety's program which is centered on 10 steps to ensure a safe driving policy:
Employee involvement and senior management commitment in order to provide leadership, establish safety culture and set policies.

Have written policies and procedures that are clear, comprehensive, and easily enforceable. Create them as a cornerstone of your driving safety program.

Establish a driver agreement, with any employees who drive for work purposes. The drivers must acknowledge awareness and understanding of the rules regarding maintenance, driver performance and reporting moving violations.

Motor vehicle record checks, also known as MVR, is necessary in order the check the driving records of all employees driving for work purposes. Avoid future problems by screening individuals with poor records.

Crash investigations and reporting must be done properly for all incidents regardless of the severity. The policies and procedures must clearly direct the drivers through their responsibilities to best determine the cause and if the incident was preventable.

The selection, maintenance and inspection of every company vehicle is necessary for incident prevention. The vehicle(s) must be properly maintained and routinely inspected.

Disciplinary action is to be determined using the policies set forth by the company. This strategy determines the course of action post preventable incident or moving violation.

Creating a reward/incentive program could make safe driving an integral part of the culture in the business. It is important that with all programs of this sort you do not discourage reporting in any way, but simply encourage positive behaviors and reward upstream.

Continuous driving training and communication is crucial even if the driver has many years of experience. Safe drivers must be taught and trained to avoid complacency and keep skills in tune.

Ensure that your drivers are aware of all applicable federal, state and local laws that are issued by the U.S. Department of Transportation, the Federal Highway Administration and the Federal Motor Carrier Safety Administration.
Keep in mind that unlike most workplaces, roads are not a closed environment. However, even though employers cannot control these conditions they can promote safe driving behavior through the use of safe driving policies and positive reinforcement. Collisions with other vehicles are preventable, and this can help employers take preventative after to protect their companies and employees.