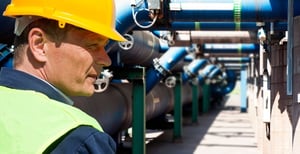 If you had the opportunity to flatten your organization's learning curve by leveraging 200 years of other people's mistakes while internalizing best practices and providing an organizational capability to continuously improve your firm's performance, would you do it?
Seems like kind of a "no-brainer," doesn't it? Who in their right mind would say "nope, not interested?"
Yet this happens all of the time when organizations are approached about implementing a management system. As a consultant, I get a myriad of rationalizations from clients about why a management system is unnecessary:
"Safety management systems are just a trend"
The wheel, indoor plumbing, and electricity were trends too. Safety management systems are consensus standards developed by industry experts with decades of experience in the proactive management of occupational health and safety risks.
The concepts that form the core of management systems standards have been culled from best practices for error reduction and management over the last 2 centuries.
From a safety leader's perspective, spending a majority of their day "putting out fires" is pretty distracting as well. Re-orientating the organization from reactive to proactive takes effort, but rewards the organization in reducing distractions, not creating them.
"Too expensive to implement"
Safety management systems do require time and resources to implement, but increase and organization's ability to prevent health and safety problems. Safety Leaders understand the comparative value of implementing proactive systems versus reacting to the cost of an injury, illness, or fatality in the workplace (which often times reaches a cost orders of magnitude greater than SMS implementation).
"Too much documentation and paperwork"
A good safety management system has value in the paperwork and documentation required for the system, and is often times the paperwork the organizations needs to demonstrate compliance with legal and customer obligations.
"No value to the organization"
All management systems, when properly implemented and maintained, help organizations add value to their products or services. Safety management systems help firms increase their return on (safety) investment, ensure compliance with legal and customer requirements, and increase employee engagement through communication channels.
Management systems specify a framework, but do not attempt to push organizations into a mold for a particular business model. The most effective framework for a safety management system is one that efficiently addresses the health and safety risks for the organization, but allows enough flexibility. Identifying these areas during the implementation phase allows for customization of the program, allowing leeway where needed while still ensuring operational discipline and accountability.
"My customer's don't require it"
Your customer doesn't require you to be profitable either. Implementation of a safety management system will help to ensure that you remain profitable through the reduction of health and safety risks to the firm, and while providing products or services to clients.
Safety investment represents a high ROI for any firm, returning $3-4 per dollar invested. Safety management systems increase returns on investment by targeting higher risk aspects for reduction through the identification and risk assessment processes.