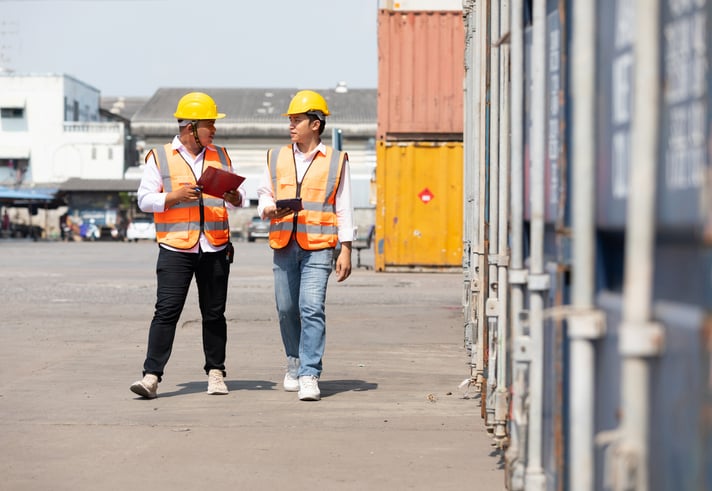 More and more companies are opting for online training, including safety training, for their employees. Online safety training can seem very advantageous due to its lower cost and reduced time requirements, but does it obtain the same results? When it comes to contractors, there are some specific considerations when comparing online versus on-site safety training.
Benefits and Drawbacks of Online Safety Training
Online safety training has many enticing benefits for construction contractors. Employees can individually take the online courses – there is no need to facilitate an entire crew receiving their training at the same time. This can be easier for scheduling and time restraints, and training can be completed anywhere in the world. Time is also a factor – it is easier to schedule time for online training versus traveling to a training facility. There is also the cost consideration. Online safety training costs less facilitate, saving a significant amount in training expenses.
The drawbacks of online safety training for contractors revolve around quality and effectiveness. While some industries can have similar results from online and on-site safety training, that is not always the case in the construction and contracting industry. Safety training for specialized equipment and tools are better suited for in-person learning, as are high-risk hazards that are common in contracting jobs. Online safety training tends to be more generic, which may not meet a contractor's needs for completing their corrective action tracking system.
Pros and Cons of On-Site Safety Training
The pros of on-site safety training for contractors revolve around the quality and effectiveness of achieving a safer work environment. For companies that are dedicated to reducing safety hazards, injuries, OSHA non-compliance fines and lost productivity from safety issues, on-site safety training is a wise investment. Some of the pros of quality in-person, classroom safety training include:
Improved engagement with workers by an instructor

Customized to address specific corrective action goals

Effective for specialized equipment operators

Better comprehension for high-risk hazards training
Classroom or on-site safety training for contractors allows for employees to ask questions about specific circumstances they encounter on the job. This can make the material more relatable than watching an online training with no interaction available. Some popular onsite safety courses offered by SatefyPro Resources include our First Aid/CPR classes and our Forklift Operator Safety Training, which are both better served when completed as an onsite training course.
The cons of on-site training revolve around the cost and time required. While it can be tempting to cut costs, safety is not a desirable area to reduce quality. With on-site training, you can save money and time traveling to a training facility while still getting the quality safety training needed for intricate contracting topics.
How to Choose Between Online and On-Site Safety Training
Some contractors may want to combine online and on-site safety training for effectiveness depending on the topic. Certain topics may be suitable for online training – low-risk hazards and general safety concerns can be effectively conveyed in quality online formats. For more specialized equipment or contractor-specific safety training, on-site or in-person training can be used to ensure better absorption of the material. The goal is to ensure employees retain the information and apply it to their daily routine to achieve improved safety within your company.
Before choosing online versus on-site safety training for your crew, it is best to perform a pre-assessment. Our team at SafetyPro Resources can perform your assessment to determine the best format to meet your needs depending on the topics, team size, scheduling conflicts, budget and other considerations.
Contractor Safety Training for Your Corrective Action Tracking
At SafetyPro Resources, we offer quality safety training for contractors in both online and on-site formats. We also offer our courses at our training facility in Baton Rouge, LA. Our safety training experts can help you meet your corrective action tracking goals to reduce work injuries and increase productivity with our safety training options. Check out a full list of our safety training options on our website. Contact us today to learn more about our safety training courses or to schedule a training pre-assessment for your company.