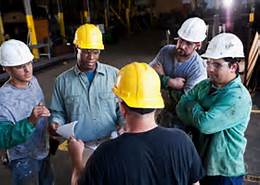 The number of temporary workers entering the labor force is rapidly increasing. This increase along with recent reports of temporary workers suffering major or fatal injuries within their first days on new jobs as well as research data showing increased injury rates overall for temporary workers has prompted the launch of OSHA's Temporary Workforce Initiative.
The main goals of this initiative involving temporary worker safety are as follows:
Protecting temporary workers from hazards found within the assigned workplace
Ensuring that staffing agencies and host employers mutually understand their safety and health obligations regarding placed laborers
Acquiring and understanding information regarding hazards in workplaces that utilize temporary employees
OSHA defines the term "temporary workers" to mean individual workers who are supplied to a host-employer by a staffing company and paid through the staffing company. Statistics show that temporary workers are at a much greater risk of workplace injury and illness versus non-temporary employees.
OSHA plans to develop outreach materials along with a combination of enforcement and training to achieve the goals of the initiative's goals. Both staffing agencies and host-employers will be responsible for site and task specific training. OSHA recommends the implementation of joint hazard assessments of applicable worksites, a defined scope of duties temporary workers are expected to perform, the maintaining of frequent communication between staffing agency and host-employers, and the conducting of new project orientations and safety training.