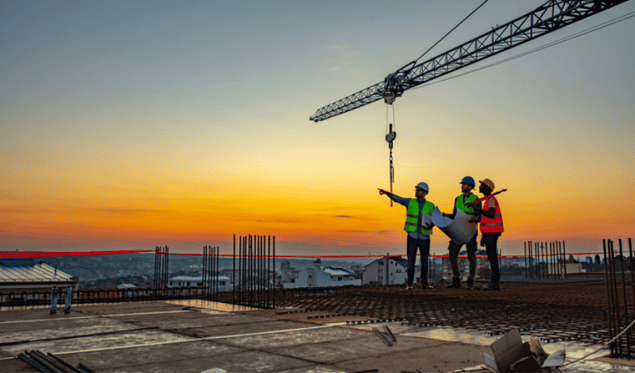 Whether you have a wealth of experience as a residential contractor or are more focused on commercial construction, you're likely familiar with construction safety standards. However, while commercial and residential projects have much in common—from aiming for zero accidents to complying with OSHA—the standards they are held to can differ significantly.
Residential projects tend to be more flexible and less costly to the client. Residential teams are smaller, with many projects requiring a single person to assess a variety of fixes or changes. Commercial projects, on the other hand, almost always depend on a larger team of specialized professionals. In both cases, teams should be aware of the following:
Permits, licenses, and codes
While residential construction has its own set of required permits and governing codes, it is smaller in scope than commercial construction. You are usually working within a smaller space and with fewer variables to consider. For a renovation or repair project, a single license may be sufficient to cover a wide variety of residential construction tasks.
Commercial construction safety is more stringent about a building's size, design, and internal components (such as plumbing, electricity, and piping). Commercial work has stricter licensing requirements, and contractors must be specifically certified in each area.
Accessibility standards are also a consideration for public and commercial projects. Complex components such as elevators, escalators, automatic doors, fire suppression systems, and PA systems are covered by relevant standards and codes. If your commercial project is large enough, further land use such as parking lots or garages may also require additional permits.
Environmental and space considerations
With a larger project comes a larger impact on the surrounding area. Commercial projects require greater responsibility on the part of the contractor to deal with environmental waste. Area-specific standards come into play here, especially regarding groundwater and hazardous material disposal. While this can usually be handled by an individual on a residential build, it may be worth investing in an environmental survey and consultation to assess the risk of fines and fees.
Long-term environmental impact is also a consideration for commercial projects. Consider whether your client has sustainability goals for their energy and water use, and how the systems you install or repair can support those goals.
Many residential areas are governed by Homeowners' Associations, which may have additional requirements for the presence and visibility of construction equipment at the residence. Commercial builds may have similar requirements, depending on the surrounding businesses in the area, the available space, and the scope of your project.
Materials and Cost
Space is more likely to be a concern on residential projects, especially if heavy machinery is required. However, even on comparably sized residential and commercial projects, the cost of the former will typically be lower due to the difference in materials and insurance. Commercial contractors must be bonded and insured, typically adding that cost into the project quote.
Commercial buildings tend to use steel, as it is more easily scalable and offers the greatest flexibility. Because commercial buildings are likely to be larger and taller than residential buildings, the materials are often more expensive. Only the largest residential projects utilize steel, usually relying on wood frames for their cost effectiveness. While wood is usually easier and faster to work with, it comes with a greater fire risk and more structural limitations.
Final thoughts
Whatever your background, your skills and experience in construction will transfer to almost any kind of project, residential or commercial. However, you will be subject to specific standards for different situations. Commercial projects require more licensing, insurance, and specialized equipment, while residential projects usually have a tighter budget, smaller space, and narrower focus.
Be aware when taking on a new job that you may have to learn new safety standards or take on additional responsibilities. Consider speaking with a safety consultant to address any safety compliance training you may need to complete and develop a plan for achieving required licensing and certifications.