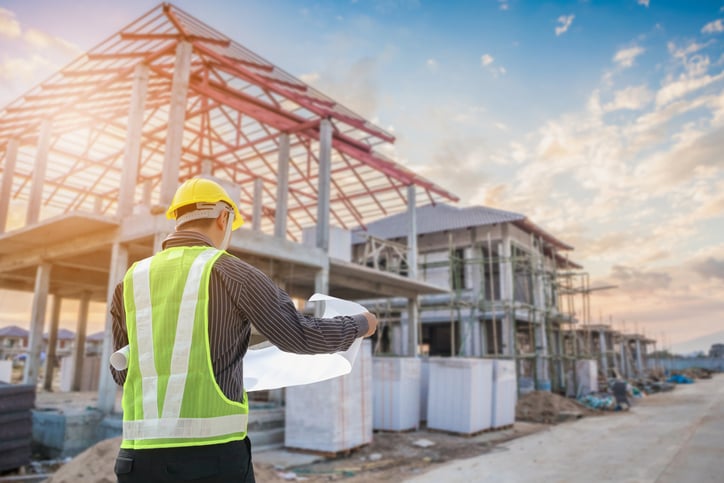 Top commercial contractors use a combination of training, implementation, enforcement, and documentation to create a strong construction safety program.
Large-scale commercial construction worksites require extensive planning and consistent execution to achieve optimum safety goals. Follow these tips to ensure you are up to date on commercial construction safety risks and training requirements.
Commercial Job Site Safety Risks and Considerations
There are several safety considerations for large commercial projects. When working with various entities and contractors, you need a safety coordinator to oversee the job site and project.
These projects are complex, and multiple entities and contractors work together to accomplish the work on time. It is easy to let some safety concerns slip through the cracks.
Three ways to avoid that happening include:
Extensive planning - Construction safety for large-scale commercial projects requires comprehensive planning to ensure all safety requirements are met. A safety manager must first compile a list of all the various tasks that will take place on the project and the areas of the job site where they will be performed.
Identify and manage safety risks - Each project and job site are unique. A thorough evaluation is needed to determine the specific safety hazards on a particular commercial construction job site. Identifying the risks for each aspect of the project and implementing safety protocols is essential to meet safety standards and prevent costly injuries.
Staffing and scheduling. Adequate staffing is essential to avoid unnecessary safety risks. Long shifts and overtime can result in fatigued workers that are more prone to accidents and sustaining injuries. Ensure there are enough workers on the crew to safely complete the job and don't push yourself to work consistent overtime and graveyard shifts.
Taking the time to plan ahead and identify safety risks will lower your exposure to the liabilities associated with workplace injuries and OSHA violations. A properly designed and executed safety program should be a top consideration for every commercial project.
8 Commercial Construction Site Safety Requirements
After ensuring a cohesive construction safety program has been developed for the commercial project you will be working on, it's imperative that you understand the extent of the potential safety risks at your worksite.
Take this proactive step to guarantee you are up to date on recent safety protocols and can be confident in your ability to meet the job requirements. Some of the safety concerns may include:
Fire hazards – Check that your worksite meets all fire protection and prevention requirements. Be sure to note where nearby fire extinguishers are kept and take the time to learn the site's evacuation procedures.
Work requiring special qualifications – Each site can have varying qualifications, so ensure you are up to date on all relevant certifications such as forklift or aerial lift operating.
Worker gear, clothing, and PPE – If your worksite requires the use of proper PPE or any other specialized gear, confirm that this will be provided by the site's safety manager. Refresh your training on each type of gear and ensure the provided PPE is easily accessible.
Working hours – Does your site meet the state, local and federal requirements for regular and overtime work hours? Know what your state requirements are and only work the hours your site is legally able to ask of you.
Heights and stability – Ensure your worksite meets regulations for height standards, stability, and enclosed spaces. Inadequate railings or scaffolding are common stability safety hazards.
Rescue routes and evacuation – Learn the rescue routes and know your worksite's evacuation plan.
Waste disposal and environmental protections –EPA and waste disposal requirements for construction sites are constantly changing. Refresh on these regulations and ensure you follow the guidelines as you work.
CDM regulations – Construction Design and Management (CDM) regulations are in place for both small and large construction projects and should therefore be in place at any site you work.
Other regulations and requirements may include those related to noise, vibration, safety signage, and hazardous substances.
The construction safety protocols and requirements for commercial contractors are extensive, but a vital part of every project. Before starting at any new commercial construction site, review the regulations and required training and certifications. Ensure you are up to date on the site's specific qualifications and be aware when the site's safety manager is missing key protocols.