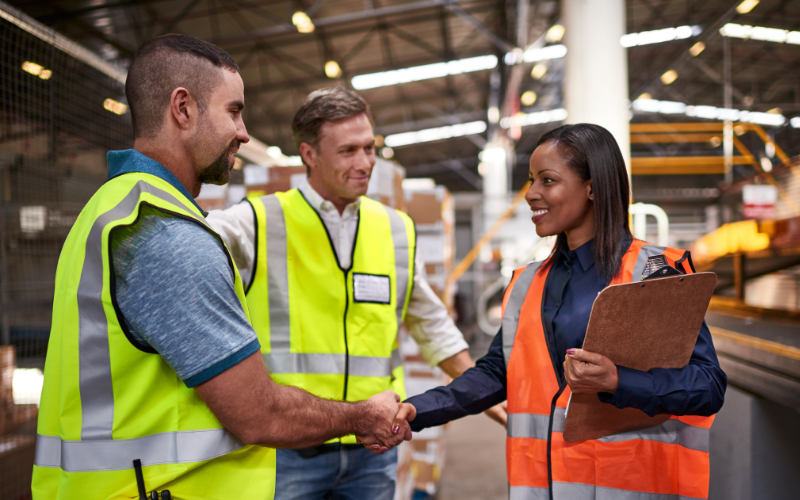 Through increased awareness of worksite hazards, improved trainings, and new OSHA initiatives, the construction industry has become significantly safer in recent decades. However, it still remains one of the most hazardous industries.Non-fatal injuries are 71% more likely to take place on a construction site than any other industry, with one in every 10 construction workers suffering from an accident annually. Beyond that, construction workers have a 1 in 200 chance of dying due to a work-related injury, just by nature of working on a construction site.
While we've taken strides nationally to address safety concerns in construction, more needs to be done to properly protect our workers. Both safety consultants and safety specialists work to help you improve safety in the workplace by pinpointing, reducing, or eliminating potential hazards.
Let's explore these two roles further and determine who can best help you improve safety in the workplace.
What is a Safety Consultant?
A safety consultant can play a pivotal role in defining and addressing current safety hazards on your site, while preparing you for future OSHA inspections. OSHA regulations are ever-changing, and it can be difficult to remain up-to-date on new NEPs and severe violator enforcement programs. This is where the expertise of a safety consultant comes into play.
Associated with an unaffiliated third party, safety consultants support site managers in a variety of ways to ensure safety and compliance. This can include conducting safety audits to check for current safety hazards, developing and executing corrective action plans to address any found hazards, scheduling and conducting safety training for employees and temporary workers, and even providing conflict resolution when necessary.
Overall, a safety consultant's primary goal is to help you create a safe working environment while remaining OSHA compliant. With years of experience under their belt, an in-depth understanding of both OSHA and state safety regulations, and the tools needed to address any safety hazard on site, safety consultants help ensure a construction site of any size is OSHA compliant.
What is a Safety Specialist?
A safety specialist is functionally quite similar to a safety consultant, with one key difference: experience. A safety specialist is typically new to the profession and is just entering the field. Safety specialists are mentored by safety consultants and can help address many base-level concerns. However, a safety specialist would not typically serve as the primary advisor for larger issues like OSHA inspections.
While it may seem like a step down to hire a safety specialist over a safety consultant, there are several instances where it would be the smarter choice. Safety specialists are still well-equipped for preliminary walk-throughs, corrective action guidance, and training. Site managers who are looking to save a bit on their safety budget can spend less on a safety specialist and still gain hours of consulting, while maintaining access to higher-level knowledge through the specialist's mentor.
4 Ways to Assess if You Need a Safety Consultant or Safety Specialist
You Need to Ensure Compliance
If you have any concerns that there may be unaddressed safety hazards on your site, it's best to find out as soon as possible. Surprise OSHA inspections can catch anyone off guard, and failing your walkthrough can result in fines or even a suspension of your project.
Safety consultants know exactly what to look for when preparing your site for OSHA compliance, and can even help you develop a corrective action plan in response to any issues found. This not only puts your site on track for addressing and resolving the issues as quickly as possible, but provides a paper trail for OSHA to reference as proof of your intent to become compliant.
You Want to Improve Productivity
Unsafe working conditions leave workers feeling less motivated and less mindful. This not only increases the risk of injury, but tanks both the quality of work and overall productivity of your team.
Safety consultants can help establish essential processes and procedures that improve productivity and efficiency on your worksite. Through proper training and scheduled equipment inspections, consultants can reduce worker downtime and unnecessary costs spent on re-training and untimely machinery maintenance.
You Need to Take Corrective Action After an Accident
Despite the measures we put into place, accidents can still happen. Accidents can potentially leave you understaffed, without essential equipment, and behind schedule. Further, the paperwork, documentation, and official reporting required of site managers immediately after can be demanding and time consuming.
Safety consultants can help your company respond to accidents quickly and appropriately. They can assist in the mountains of paperwork, help you satisfy any legal requirements post-accident, and handle injury reporting to OSHA. Most importantly, safety consultants can get your site back on track as swiftly as possible by addressing the root cause of the accident with a comprehensive corrective action plan.
Your Daily Operations Need a Refresh
Both safety consultants and safety specialists can teach site managers ways to improve daily operations with the latest safety technology and strategies. New systems and advanced tech are always being developed, and finding and implementing the best systems for your site can make your work faster and safer, while saving money long-term.
benefits of hiring a professional
No matter your needs, your accident record, or the size of your site, hiring a safety professional is well worth your time and money. You can contract a consultant for a specific amount of needed time, or hire one on a semi-regular basis, and it's still tax deductible.
SafetyPro is able to work with any budget, and while you'll have a point-of-contact to make your life easier, our whole team will be working together to make sure your site is OSHA compliant. Our diverse team offers varying levels of expertise, so we're prepared for any issue, big or small. With SafetyPro, you get access to our whole team, not just one person.