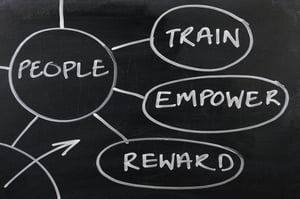 In 2014, W.B. Moore Company, located in Charlotte, N.C., was dubbed the safest construction company in the nation by the AGC of America. The AGC, Associated General Contractors, oversee the Wllis Construction Safety excellence Awards which yearly ranks construction safety programs. W.B. Moore Company was selected based on their extraordinary leadership in safety and their dedication in the implementation of safety and loss prevention programs. Let's take a closer look and what we can learn from this extraordinarily safe company.
Worker Training
W.B. Moore Company highly values their worker's training, stating that "a trained worker is a safe worker". They go above and beyond the required trainings, i.e. all of their electricians go through apprenticeship training. As a company wanting to excel and be safe, you should look into what programs will grow your workers into being safe and efficient.
Supervisor Training
Another course of action W.B. Moore Company does is training their supervisors; offering leadership training and management workshops to all those in a position of power. Providing exceptional leadership training is a key step in creating safety culture in the workplace. Supervisors and managers develop skills to successfully take action when necessary.
Team Building
W.B. Moore Company values and priorities team work, by engaging each member in training they learn from each other. Remember that we are only as good as our team. In football if someone fumbles the ball while trying to score, their teammates must try and help him retrieve it. This is the same principle when talking about being safe; if someone messes up, it is important to help them out and come up with a solution so that it doesn't happen next time.
Conclusion
There are a few key takeaways we can bring with us into our companies.
Work on training your workers,
Train your supervisors with the leadership abilities necessary to move your company forward,
Build your team up
The main focus is make sure each person in your company knows they play an important role in the grand scheme of things, and they can work together to make their job safer and happier. With proper training and leadership, your company can grow. For more information on training click the button to download our safety manager's guide to safety training.