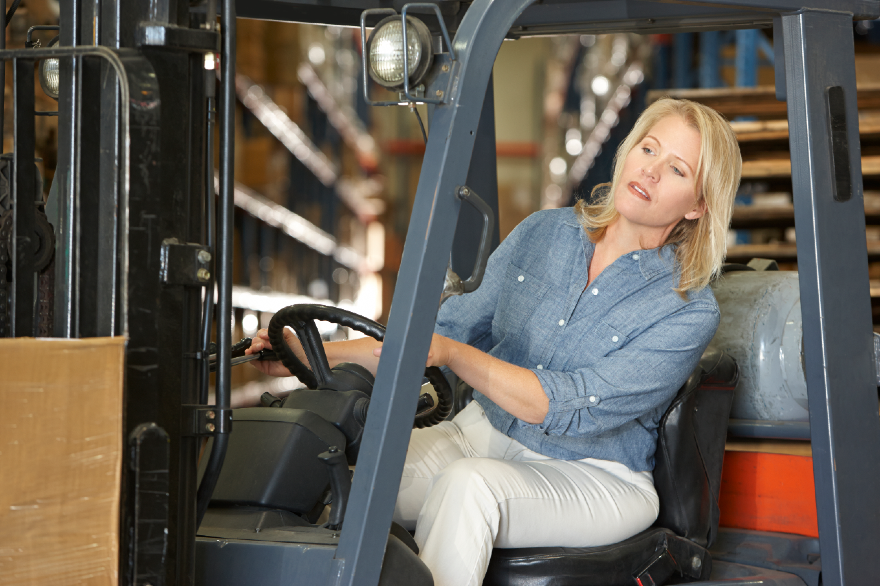 Every forklift operator needs to be certified to meet OSHA requirements. During training and certification, forklift operators are expected to learn the best practices for forklift safety.
Unfortunately, bad habits can occur on the job, and forklift safety protocols can be set aside. Forklift accidents can cause serious injuries, even death, to your employees and impact your bottom line. To improve forklift safety on your job sites, consider getting back to basics. Here are seven key factors in forklift safety to stress with your crews.
1. Balanced Loads
According to OSHA, about 85 fatalities are caused each year by forklift accidents. The number cause of forklift accident fatalities? Tipping over. Unbalanced loads and driving on unlevel surfaces can result in a forklift tipping over and crushing the driver or anyone near the vehicle. Properly loading forklifts can prevent these dangerous accidents on your job sites.
2. Slow Down
An estimated 34,900 serious injuries are caused by forklift accidents each year and many of them involve speed. Going too fast while driving a lift truck can increase the risk of tipping, hitting pedestrians, and running into other vehicles or objects. Forklift operators should adhere to speed limits for their safety and the safety of others on the job site.
3. Wear a Seatbelt
Forklift operators should always be wearing a seatbelt, but this is a common violation of forklift safety protocols. Operators may need to enter and exit the vehicle frequently and putting on their seatbelt can be overlooked. Seatbelts can protect the operator from crushing injuries if the vehicle tips or is in an accident.
4. Avoid Overloading
Overloading a forklift can be dangerous for the forklift operator and nearby workers. Overloaded forklifts can tip and are more difficult to maneuver. Reducing loads is important, but also training on how to effectively carry heavier loads is crucial. Keeping the load lower while moving can increase vehicle stability to reduce the chance of tipping accidents.
5. Look for Pedestrians
Awareness is important for everyone on the job site. Floor or ground workers need to be aware of lift trucks on the site and forklift operators need to watch for pedestrians. Safety training can remind everyone of the dangers of forklift and pedestrian collisions.
6. Loading and Unloading Safety
Falling materials can be dangerous when loading and unloading forklifts. It is important to ensure there is enough clearance during unloading or raising loads and that the loads are secured. Workers on the ground need to avoid forklifts loading and unloading zones, and operators should be using proper techniques to reduce risks of dropping loads.
7. Avoid Platform and Ramp Edges
Lift trucks need a level surface to stay upright —a small overlap over the edge of a platform or ramp can be extremely dangerous. Forklift operators need to be very aware of avoiding the edges of any raised platform, ramp, or loading dock to prevent vehicle tipping and falls.
Manufacturing and construction industries have the highest numbers of fatality forklift injuries, as well as high numbers of serious injury accidents. Increasing forklift safety training both for operators and workers sharing the job site can help reduce the chance of these preventable accidents at your workplace.
At SafetyPro Resources, our job is to help our clients create safer workplaces for their employees to prevent costly injuries and lost productivity. Our safety training courses, and safety management services can give your company the edge in reducing preventable job site accidents like forklift fatalities and injuries. To learn more about our safety training, consulting, and management services, contact our office in Baton Rouge, LA.