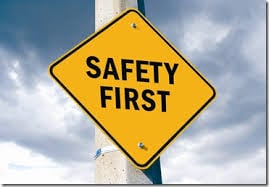 Prevention Through Design (PTD) is a concept that allows organizations to eliminate a project's safety issues during the design processm before the project is completed. Eliminating potential safety hazards in the design phase of a project can lead to long term cost savings by reducing the risk of accidents and injuries.
PTD is gaining recognition among safety managers as a cost effective means to enhance accident prevention programs.
Other countries have begun requiring that safety issues be addressed during the initial design phase of projects. The United States does not require PTD, however, many business leaders support PTD and have developed management systems that require the implementation of PTD in the early stages of project development.
PTD can greatly improve the safety of your workers. When you apply PTD early in the design phase, you eliminate safety hazards before they are created. But in order to develop an effective PTD program, you have to include your safety personnel in the early stages of the design process.
Below is our 3 steps to accident prevention list of recommendations on when and how to include your safety team on projects.
Choose Your Team
Your policy should require that a representative from your safety department be included on the project management team. This insures that the rest of the project team understands your commitment to accident prevention. Waiting to address safety issues at the end of the design process can delay the project and have costly consequences. Engaging your safety expert during the initial design process can help keep the project on time, improve your accident prevention program, and lead to long term savings.
Define Program Requirements
Incorporate accident prevention considerations early in the design process. There are basic safety concerns that should be addressed in the early stages of design such as electrical safety, environmental concerns, fire protection, maintenance tasks and regulatory compliance. Addressing these basic safety concerns early will help the project team create an effective design.
Design Review
Your safety management team should review all design documents and provide comments on safety concerns and recommend changes. It takes less time and money to review documents in the early stages of development than it does to correct construction after implementation or completion of a project.
What if a project is already underway and your project management team is already on their third design review? It's not too late. We recommend obtaining management support by explaining the accident prevention gains and the savings involved by implementing PTD during the design process, before it's too late to eliminate the hazards.
Related reading:
Preventing Vehicle Back Over and Struck-By Accidents
Common Construction Accidents and How to Prevent Them
Four Key Strategies for Safety Leadership in Accident ...